Almost 10 years ago, back in April 2002 to be precise, More magazine challenged five American advertising agencies "to create campaigns that would change corporate decision-makers' minds about how they sell" to women over 40. About this demographic Mary Lou Quinlan wrote: "[J]ust try finding us when you switch on the TV or flip through most magazines. Page after page, ad after ad, pretty young women sell everything from soft drinks to software. Younger women may be highly attractive and are certainly strong spenders, but their buying clout pales in comparison to that wielded by women over 40. Still, there's an 18-34 demographic desirability locked into corporate America's mindset."
Perhaps women over 40 have become more visible in advertising over the last 10 years — celebrities such as actress Diane Keaton have proven appeal to all age demographics. Nevertheless, it is fun to look back at the ads created by the ad agencies for the More ad challenge of 2002. Here are my top two favorites:
From the Kaplan Thaler Group Ltd.:
From D'Arcy Los Angeles: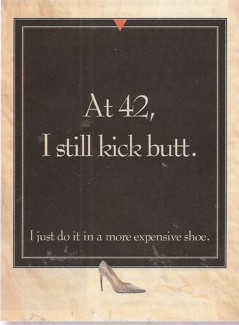 Wouldn't you love to see More magazine run an ad challenge again?