In Southern California, unless you travel to colder climes, your winter wardrobe necessities are very much reduced. Especially with the continuing unseasonably hot weather we're experiencing this year, winter coats are but a distant memory for this writer. I recall with pleasure, however, the process of choosing a new winter coat. Classic trench coats with detachable wool lining, lush cashmere or wool coats, down-filled varieties for sport, and real or faux fur —  all manner of outerwear beckons and fills the well-stocked winter closet.
In climes colder than So Cal, a basic wool or cashmere winter coat is a workhorse of every woman's wardrobe. It should be long enough to cover the season's popular length in skirts (unless the coat is noticeably and intentionally shorter) and, when worn with boots, should keep the wearer's legs entirely covered and warm. This year, the choices are abundant.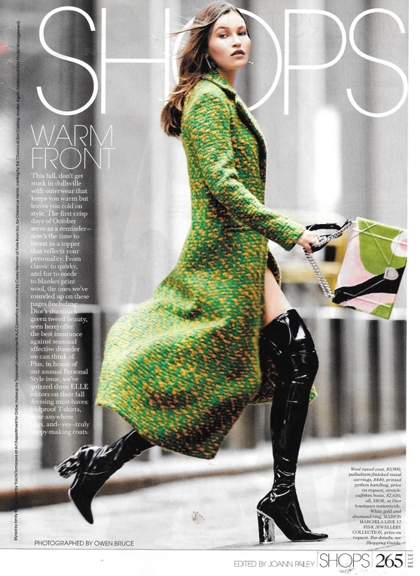 The October 2015 issue of Elle counsels:  "This fall, don't get stuck in dullsville with outerwear that keeps you warm but leaves you cold on style. The first crisp days of October serve as a reminder–now's the time to invest in a topper that reflects your personality."
Elle features a "shamrock green tweed" coat from Dior, in a color mix that may well lift the spirits every time it's worn. The model wears the coat with over-the-knee boots and what appears to be very little else, given the expanse of bare thigh showing, but it would adapt perfectly to more conservative styling.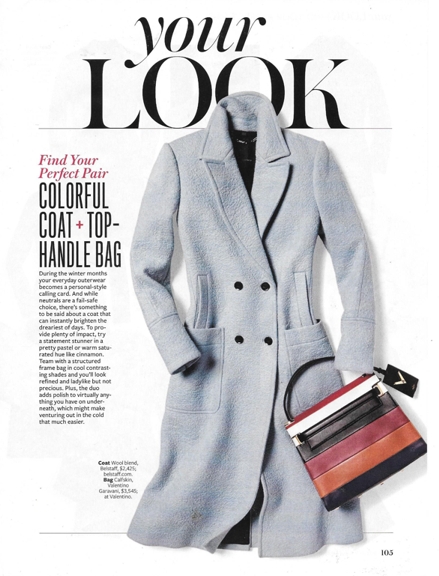 The November 2015 issue of InStyle encourages readers to combine a colorful coat with a top-handle bag for a chic look this winter season, noting: "During the winter months, your everyday outerwear becomes a personal-style calling card.  And while neutrals are a fail-safe choice, there's something to be said about a coat that can instantly brighten the dreariest of days." InStyle suggests trying a "pretty pastel or warm saturated hue like cinnamon" to team with a structured frame bag "and you'll look refined and ladylike but not precious."  (Pictured above is a wool blend coat from Belstaff and Valentino Garavani bag.) While the top-handle style bag is chic and stylish, keep in mind that one that has an attached shoulder or cross-body strap gives you options that are especially practical when traveling in inclement weather.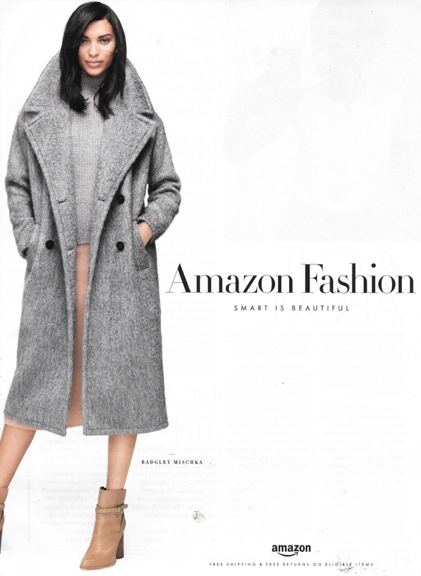 Speaking of fail-safe options, a current ad for Amazon Fashion features a luscious grey coat from Badgley Mischka. A peek of skirt falling below the hem of the coat mars the look, and the model's legs are not flattered by the camel-hued booties styled with the coat. The same coat with tall boots and the skirt hem raised just an inch would make all the difference. There's something about grey wool that always feels delightfully cozy. This is a coat to be enjoyed for years to come.
When choosing a coat, be certain that it is large enough to accommodate what you will be wearing underneath it. For many professional women, this means that the coat should be large enough to fit over a blazer or jacket.
I find it disheartening to read the opinion proffered by one of the editors of Harper's Bazaar  in the magazine's October 2015 issue. She notes:  "My boss, Glenda, swears by low-priced turtlenecks 'because they lose their elastic and you have to throw them out anyway.' Do what she says, dear reader, like I do," continues the editor. "I buy trendy coats from chain stores–hot pink or a wacko plaid, one-season wonders that keep you warm and cool, but you won't kill yourself if they start pilling."
How very sad to be saddled with a cheap, pilling wacko plaid topper when there are coats of marvelous fabric and construction that will pay for themselves many times over when enjoyed over the years.  Classics in quality fabric are well worth the investment and are never out of style.