The clothing offered for sale online by major retailers can provide eye-opening lessons in the visual effect of prints. When the same garment is offered in two versions, one solid and one in a print, both modeled by the same woman, it is easy to see how adding a pattern changes the effect of the garment.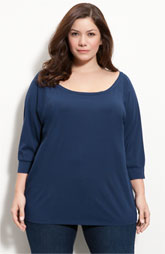 For instance, here is a dark blue top from Allen Allen offered on the Nordstrom web site for $48.00 in plus sizes. The scoop neck and three-quarter sleeves are both flattering details for fuller figures, and the model looks comfortable and lovely.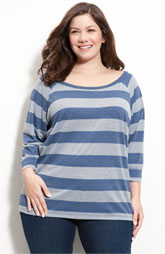 Take essentially the same design and make it in a wide stripe, and the effect is completely different. The horizontal emphasis is not flattering to the model. It disguises her curves, making her figure look blocky. The size of the stripes is disproportionately large relative to her facial features, distracting the eye from her pretty face.
Change the coloring of wide stripes, however, and quite a different effect may be achieved. Here is the "Beach Towel Stripe" tee from Splendid offered on the Nordstrom web site for $108.00 in plus sizes. Although the stripes are about as wide as those on the previous example, the coloring focuses the eye at the narrowest part of the model's body, emphasizing her hourglass shape. The deep vee neck and three-quarters sleeves are also flattering design details.
I salute Nordstrom for using plus-size models for its Encore Department fashions. Although seeing a model that closely resembles one's body size, shape and proportions is not likely for the vast majority of us, it is wonderfully helpful to get a visual sense of how a women's size garment fits on a model who is not a traditional sample size.