File this under "Oh, No!" The popular purewow.com web site posted a piece on April 2nd  declaring: "This Trending Neckline Is So Flattering, Everyone Needs to Buy It Immediately."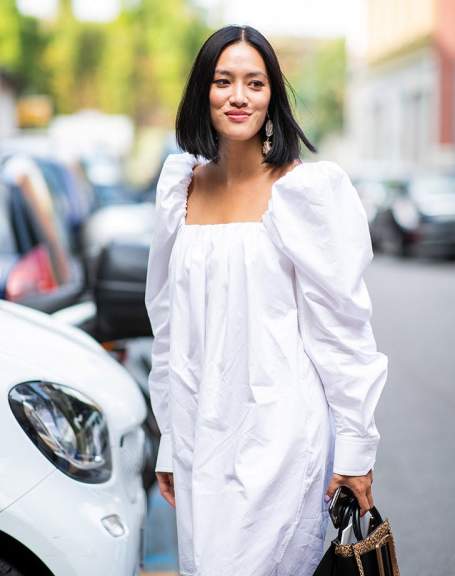 A number of photos are included with the article, including this example of a square neckline that works beautifully for the wearer. More on why it works below.
The issue with a square neckline is that it brings horizontal emphasis to a place where one might not want it. For a large-busted woman with slender hips, a classic "inverted triangle," the square neckline is likely to make her proportions look out of kilter.
For a curvy woman of any size, the straight line of a square neckline does not inherently relate to the lines of her body, which are curved, not straight. If her facial features are strongly horizontal, particularly her eyebrows and the line of her mouth, however, or if the wearer choose strongly geometric haircuts, a neckline that otherwise fits her physique correctly may be flattering.
In any case, be sure the square neckline you are considering is at least as wide as your face. A narrower neckline may make your face look out of proportion and your neck look relatively short.
Be sure the square neckline lies flat across your chest. If it does not, you are too curvy for that particular neckline. Seek another.
The photos above displays a square neckline that is wider than the wearer's face. The neckline lies flat. The model appears to have an hourglass shape:  she has hips that are balanced by the neckline and puffy sleeves of her dress. Notice the center part and blunt cut hair, providing design elements that are complimented by the neckline. The model adds the finishing touch of a handbag that matches her hair and has a strong horizontal top line. The eye sweeps over the ensemble and finds a pleasing harmony.
Never ever listen to anyone selling something that purports to work for everyone.