Finding stylish yet comfortable shoes can be a challenge these days, as designers and stylists seem to take an all-or-nothing approach to height:  sky-high heels often accompanied by platforms, or the flattest of flats. Here are some of spring's newest designs, interpreted as to what they say about the wearer – in this case, "I'm the Boss" – from the March 2012 issue of InStyle magazine:
The March 2012 issue of Ladies' Home Journal contains a wonderfully informative article by author Lauren Lipton entitled "Our Smart, No-Judgment Guide to Wearing Cute Shoes and Sexy Heels–Without Too Much Torture." The article balances  statistics from the American Podiatric Medical Association about shoe-related maladies with the recognition that "There's no mistaking the seductive pull of a beautiful pair of shoes."
The article includes a discussion of how to prevent or to fix such shoe-related foot problems as bunions, hammertoes, Morton's neuroma, plantar fasciitis, and Haglund's deformity, a bone spur that develops at the back of the heel where the Achilles tendon attaches.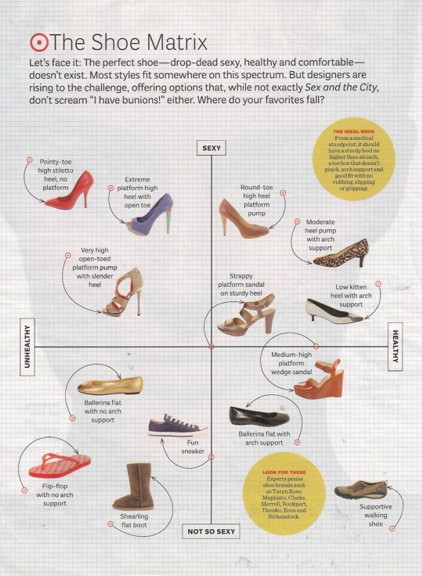 Included with the article is this superb matrix, assigning styles of shoes on a continuum from sexy to not so sexy, and from unhealthy to healthy.
Lipton writes: "The good news is that you don't have to pack away your sexy high heels. Just wear them less often, for shorter periods and for occasions where you won't be on your feet too much." To keep your feet healthy, "try switching regularly between a variety of low, supportive footwear."
Lipton concedes on the matrix page, "Let's face it. The perfect shoe–drop-dead sexy, healthy and comfortable–doesn't exist. Most styles fit somewhere on this spectrum. But designers are rising to the challenge. . . ."
One of the designers promoting a realistic approach to fashionable footwear is Prabal Gurung, a young designer whose fashions have been worn by Sarah Jessica Parker, Kerry Washington, Rooney Mara, Oprah Winfrey and First Lady Michelle Obama. Gurung launched his eponymous collection in 2009 and was runner up for the 2010 CFDA/Vogue Fashion Fund.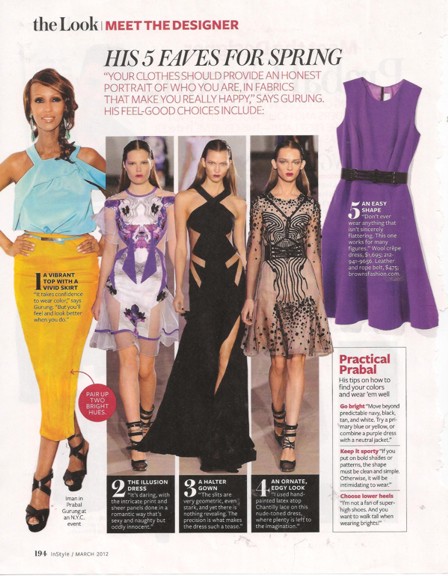 The March 2012 issue of InStyle  profiles Gurung and his philosophy of dressing: "Your clothes should provide an honest portrait of who you are, in fabrics that make you really happy." Among his practical tips: Choose lower heels. "I'm not a fan of super-high shoes. And you want to walk tall when wearing brights!"
Notice the purple dress shown above right on the page from InStyle, illustrating "an easy shape." Gurung comments: "Don't ever wear anything that isn't sincerely flattering. This [dress] works for many figures."
At the moment, it may be even more difficult to find comfortable sexy shoes than it is to find a dress in a shape that flatters many figures. I'll be watching for both.