Here's a collection of sparkly evening looks pictured in the June 2014 issue of InStyle.  The fashion spread does an excellent job of ordering the red carpet gowns from left to right according to which is the easiest to wear, giving us a wonderful opportunity to consider necklines.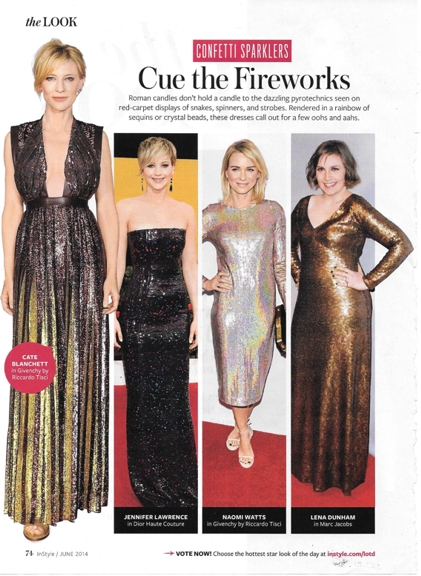 To the far left, actress Cate Blanchett wears a dress cut down to her waist in the front, a look by Givenchy by Riccardo Tisci not recommended except for a woman with a modest sized bust, perfect posture, and plenty of two-sided tape. For most women, this neckline is not one ever to be considered as a wardrobe option.. On Blanchett, of course, it's dramatic and stunning.
Actress Jennifer Lawrence wears a strapless gown from Dior Haute Couture. The top hem of the gown is straight, without any dips or curves, requiring the woman to supply her own (which Lawrence does beautifully). While beaded to the hilt, the dress is essentially a blank canvas look, fitted beautifully but devoid of unique design elements — the perfect dress with which to pull out the stops with shoulder-duster earrings. This style of dress will only flatter if perfectly fitted.
Third from left, Naomi Watts wears a second design from Givenchy by Riccardo Tisci, one which I think is not especially flattering to the lovely actress. The jewel neckline and straight construction of the garment make it resemble an oversized tee-shirt with not a lot of shape, hiding her figure. The length, cutting at mid-calf, is also notoriously difficult to wear. Drop earrings that blend with her hair add little and her sandals and chunky bag have a mismatched casual vibe. Watts would be more flattered by any of the other dresses on the page.
Particularly worthy of note is the stunning gown from Marc Jacobs modeled by actress Lena Dunham at the far right. The deep vee neck frames her face, and the gown is fitted beautifully to her figure. The color of the gown suits Dunham perfectly. She looks stunning.
An open neckline, whether a shaped sweetheart style, a scoop neckline, or a deep vee, as seen on the Marc Jacobs gown, is almost universally flattering as it serves as a frame for the wearer's face and draws the attention upward.
The deep vee is even a good choice even for someone who doesn't particularly like her neck. A smaller neckline draws the eye in toward the neck, whereas the expanse of a wide vee puts the neck into context with the face and body and diminishes its relative visual importance.