For those who are searching for more chic low-heeled options in footwear, there is an exciting assortment pictured in the May 2013 issue of Allure magazine, which comments: "After years of teetery stilettos, heels have come back to earth."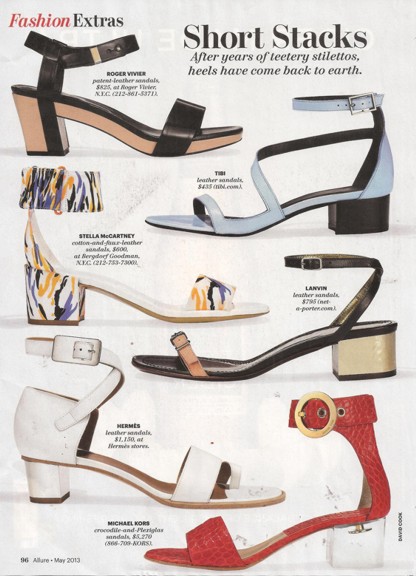 The styles pictured are all sandals with a strap across the top of the foot and a strap around the ankle. Ankle-strap footwear can be very alluring, but is not for everyone. They are most flattering on long legs with slender to average ankles, as the ankle straps create horizontal lines that visually shorten the legs, an effect most pronounced with bigger ankles. The chunkier the ankle strap, the more pronounced the shortening effect. Styles with less contrast against the color of one's skin are easier to wear than styles that provide high contrast.
None of these low-heeled options in Allure come with a low price. The sandals are $825 in patent leather from Roger Vivier; $435 in blue leather from Tibi; $600 in cotton and faux leather from Stella McCartney; $795 in leather with a metallic heel from Lanvin; $1,150 in white leather from Hermes; and a whopping $5,270 (yes, five thousand two hundred seventy dollars) in crocodile and Plexiglas from Michael Kors.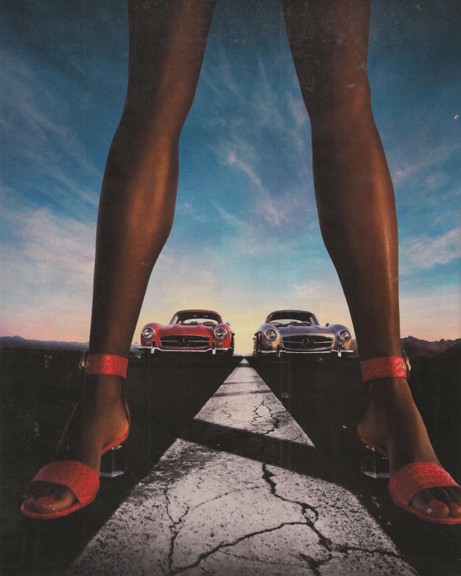 The Michael Kors sandals are also featured in the March 2013 issue of Harper's Bazaar, shown above.
Harper's Bazaar features a number of other styles of lower-heeled shoes without ankle straps, including the above block heel shoes form Balenciaga by Nicolas Ghesquiere, which ring in at $755.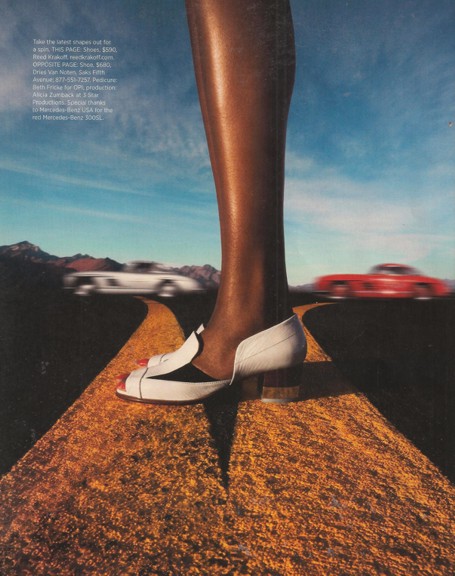 Also pictured in Harper's Bazaar are these lower-heeled shoes from Reed Krakoff which, at $590, are not only more comfortable on the feet and easier to wear, but are also easier on the budget.