Are there glimmerings of hope that designers once again are creating footwear that is not only stylish enough to appear in the fashion press but also comfortable, somewhere in the vast universe of options between sky-high and pancake-flat? Two items came to my attention as I perused the March 2012 fashion magazines.
This ad for Bally Switzerland appears in the March 2011 issue of Elle magazine. The model wears an elegant pair of slingback heels of 2 1/2 inches in height. The shoes, adorned with tone-on-tone bows, are a neutral shade of beige, a leg-elongating hue for women of fair skin. The shoe style, "Paulinne," is available on the Bally web site and is priced at $525.00. It is also available in black.
Here's a close-up of the Paulinne style. Notice the metal wrap around the bottom portion of the heel. If you've ever wrecked a pair of shoes by catching the back of the heel, you'll appreciate this protective yet stylish design detail.
There is also promise at the casual end of the style spectrum. Glamour magazine's "resident trend tracker" Rajni Lucienne Jacques reports in the March 2012 issue of the magazine, "Every spring I go on a journey to find a not-too-high sandal that satisfies me as much as my usual heels. I want style and comfort at the same time! This season Loeffler Randall answered my prayers." She reports that the designer's new Heart LR collection is full of neon clogs that she describes as "Cutesy and chic all at once."
Pictured in Jacque's article is a pair of "Inge" ankle-wrap clogs in acid green neon leather on a poplar wood base. The shoes have a 55mm heel (which translates to 2.2 inches). The clogs are available on the Loeffler Randall web site and are priced at $235.00. Jacques tells her readers "I'll wear them with everything."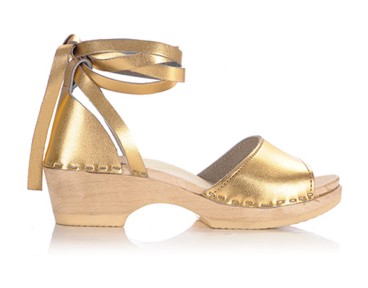 Introducing neon into a wardrobe can be fun, but a more versatile option is the identical style in gold metallic leather, seen above. Metallics can work in a wardrobe as a genuine neutral. The Inge style is also available in black leather on a poplar base.
Ankle wraps, clogs and bows are not suitable choices for everyone, to be sure. I'll report more options in shoe sanity as I see them profiled in the fashion press.