Supermodel Gisele Bundchen is so stunning that she could likely make anything she wears look good. But I may have found a jewelry combination that even she couldn't pull off.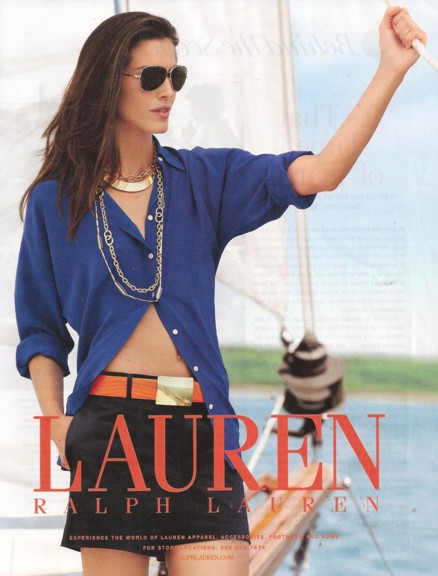 Consider this ad for Lauren Ralph Lauren running in the December issue of O, the Oprah Magazine.  The model (who is unidentified, not Bundchen) wears four necklaces: a short chunky chain, a short rigid collar or choker, a long chain of oval links with larger double oval accents, and a necklace of long rectangular links accented with what looks to be crystal or plastic spacers.
The issue I see with the styling is that there is no focal point. The thick choker renders the shorter linked necklace superfluous and competes visually with the two long strands, which in turn compete visually with the bright orange belt and metallic belt buckle below. The eye doesn't know where to look. Even if the model's shirt were buttoned and the belt hidden, the necklaces do not work together. The only design element the necklaces share is metal color.
The single longest necklace, with its rectangular links, takes on a somewhat jagged shape that starts and stops and does not flow, a shape that clashes with the smooth rounded shape of the next longest necklace. Those two necklaces do not complement each other. Notice too how the awkward angle of the longest necklace at bottom right emphasizes the angular shape of the jawline of the model.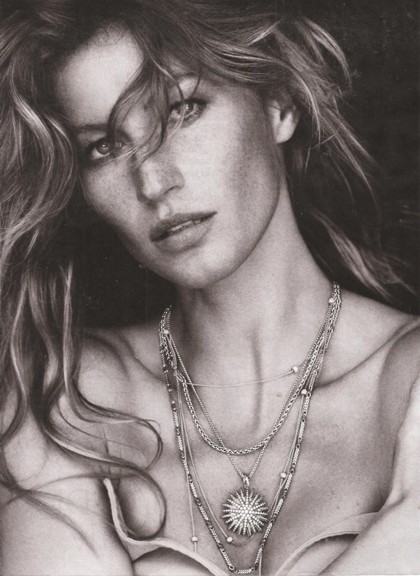 Next consider this beautifully styled ad:  In a current ad for David Yurman jewelry running in the December issue of Vogue, Bundchen wears a starburst pendant necklace plus five other necklace strands of varying widths with an alluring off-the-shoulder sweater. Three of the strands that are identical may actually be one necklace wrapped three times around her neck. The necklaces are layered beautifully, highlighting the pendant and providing a nested effect with a visual focal point.
Layering necklaces is more of an art than a science, but the overall effect of any combination  is easily determined. Evaluate any look by considering where the eye is directed. If the eye is confused, the look will benefit by revision.
How might one revise the Lauren Ralph Lauren styling? First, eliminate the choker, which interferes with the long line created by the deep vee of the open shirt and further emphasized by the long necklaces. Eliminate the short chain necklace too, as its impact is de minimus. Choose a pair of longer necklaces that complement each other, one slightly shorter than the other (which may require taking out several links, a task easily accomplished by any jeweler), or wear only one long necklace. Either replace the bright belt or intend for the belt to be the focus of the ensemble. The overall look will be less cluttered, more cohesive, sporty and chic.