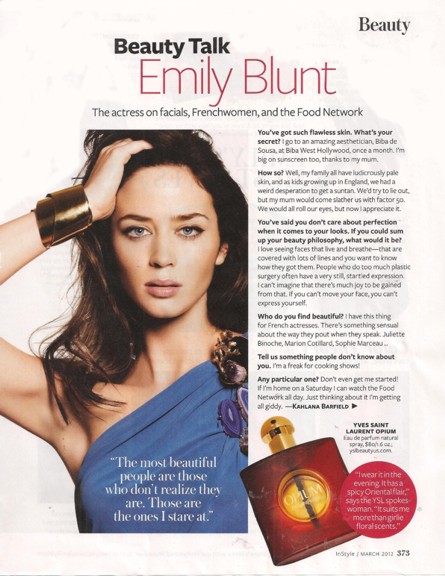 This exquisite, uncredited photograph of Emily Blunt that appears with her profile in the March 2012 issue of InStyle magazine deserves a closer look.  Blunt is gorgeous, of course, and younger than most of my readers, but the styling of the actress and the photo are both worthy of mention.
The teal color of her dress relates to and heightens the color of her eyes and compliments both her skin tone and hair color, demonstrating the power of a flattering hue. Her jewelry, a bronze or antiqued gold cuff and an interesting arrangement of blue ringed agate stones and antiqued gold leaves, balance each other. Having only a glimpse of the jewelry to the right makes one want to see more of it, adding active intrigue to the photo.
The position of her right arm repeats the diagonal of her one-shoulder top. The effect is to draw the eye up to her face. A similar effect to this styling can be achieved with a drape of fabric, the careful positioning of one arm, and some well-chosen jewelry.
Also worthy of note is the quotation that appears at the bottom of her photo: "The most beautiful people are those who don't realize they are. Those are the ones I stare at." When asked to sum up her philosophy of beauty, Blunt replied: "I love seeing faces that live and breathe–that are covered with lots of lines and you want to know how they got them. People who do too much plastic surgery often have a very still, startled expression. I can't imagine that there's much joy to be gained from that. If you can't move your face, you can't express yourself."