It's not accidental that the background color of my blog is turquoise blue . I chose the color because turquoise is a serene color, reminiscent of tropical lagoons, a color that invites one to relax and stay a while, and at the same time a color that has a vibrancy that energizes and encourages engagement.
Today I'm pleased to offer my readers a guest blog post from Babe Hope, who blogs for the web site www.ullapopken.com. Ulla Popken's mission is "to offer plus size women exclusively-designed, stylish merchandise of finer quality with the most consistent fit" and, at the same time, to "exceed customer expectations making women look and feel their most beautiful at a fair price." In her guest post here on www.trulybecoming.com, Babe provides her take on a key reason that turquoise is a perennial favorite.
Please enjoy Babe's post and read on for a special giveaway that may enable you to enjoy a bit of the color turquoise, or whatever is your favorite hue.
* * * * * * * * * * * * * * * * * * * * * * * * * * * * * * * * * * * * * * * * * * * * * * * * * * * * * * * *
Colors That Work – a Guest Post by Babe Hope of UllaPopken.com  
Do you select colors that you love to look at or colors that flatter your face? Well, how about a color that does both?
Check out Ulla Popken's Embroidered Beaded Tunic,#22435, terrifically turquoise. The color is absolutely gorgeous and it is a universally flattering color. How can this be so?
Colors on opposite sides of the color wheel enhance each other, which is why strawberries pop and look so delicious packaged in green containers. This shade of turquoise is just about the 'color-wheel opposite' of pink–playing up a healthy blush in the skin, regardless of your complexion tone. Both light and dark, warm or cool skin tones have underlying or obvious shades of pink. That is why this color flatters everyone. Furthermore, this color is also versatile, it works for three of the four seasons and can be paired with all neutrals, black, brown, khaki, white and of course jeans.
Oh, and did I mention the fabric? The fabric is richly textured, 100% cotton, so soft to the touch but has enough weight to drape well. The notched neckline and sleeve hem are intricately embroidered with bronze-toned beading. The fit is relaxed and the length is 32 inches. Ahhhh!
Wrap yourself in turquoise, day or night, and bring out the blush in your cheeks.
About Babe Hope: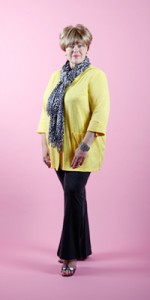 Babe Hope is the author of Pretty Plus: How to Look Sexy, Sensational and Successful No Matter What You Weigh. She has written numerous articles, appeared on dozens of radio shows and videos and consulted to several specialty apparel retailers, sharing her tips on how to feel good in what you wear. A plus size woman all her life, Babe turned the 'pity party' into a 'pretty party' fifteen years ago and has been a stylist and personal shopper for women of all shapes and sizes. She is currently a blogger, stylist and model for Ulla Popken and fully embraces Ulla's spirit: 'Feeling beautiful is empowering.'
* * * * * * * * * * * * * * * * * * * * * * * * * * * * * * * * * * * * * * * * * * * * * * * * * * * * * * * *
Ulla Popken's Tunic Giveaway to One Lucky TrulyBecoming.com Reader:
Ulla Popken has beautiful tunics in sizes from 12 to 38 and will give away a tunic to one lucky reader of the TrulyBecoming.com blog who posts a comment to this blog post during the month of June, 2012. To enter the contest, please visit ullapopken.com. Choose the tunic you'd most like to have and make note of its name and item number. Then come back to trulybecoming.com and tell us in a comment to this blog post how the tunic would expand your wardrobe options and why you'd like to have it. Be sure to include the name and item number of your choice in your comment.
Please post your comment below and be sure to provide your name and email address as requested. Your last name and email address will not be published with your comment, as all comments are moderated. All comments are subject to being edited for length.
The contest runs through 11:59 p.m. on June 30, 2012. Comments will be judged based upon the thoughtfulness and clarity of the comments posted.. The lucky winner will be contacted via the email address provided, and the winner will have ONE week to claim the prize, after which time it will be awarded to another entrant. If the winner's choice of tunic is no longer available in her size on ullapopken.com, the site may substitute a garment of similar value.
This giveaway is open to persons 18 years of age or older living in the United States, and is void where prohibited by law.