There's an exciting movement afield, a theory of dressing embraced by fashion icons that works for every woman of every age. Going far beyond the incorporation of athletic wear into daytime dressing, the trend reflects a new recognition of the importance of comfort.
The April 2016 issue of Vogue features the theme "Tomorrowland" and poses the question, "How will the future family live and dress"?  Vogue's prognostications include "ultracomfortable day chic." Discussing the photo of model Joan Smalls wearing a Vetements shirtdress and Boss pants, Vogue comments:  "'Unfussy' isn't a new ideal, but it has great currency. We all want to be, finally, liberated from physically constricting clothes–and sartorial foolishness. That's why a loose top and lounge-y, laid back pants are the shape of things to come."
"Get Punk'd" urges Alex Frank in the March 2016 issue of Elle magazine, spotlighting design labels Vetements, Off-White and Gosha Rubchinskiy: "This new establishment is turning fashion on its head at a time of upheaval in Paris–some would call it a crisis." With the departure of Raf Simons at Christian Dior, Alexander Wang at Balenciaga, and Alber Elbaz at Lanvin, Elle  notes: "into that void stepped a bunch of upstarts who have very new ideas about what is chic." These designers "represent the dramatic, refined, thought-provoking end point of so many recent trends. . . . All these trends have been leading us toward this:  a uniform that's as cool as it is comfortable, the zenith of cozy and casual to keep you looking unbothered in a twenty-first century spent in uncomfortable airport terminals and in line for the next available treadmill."
The embrace of comfort as the key to chic dressing is not limited to those over 40, by any means.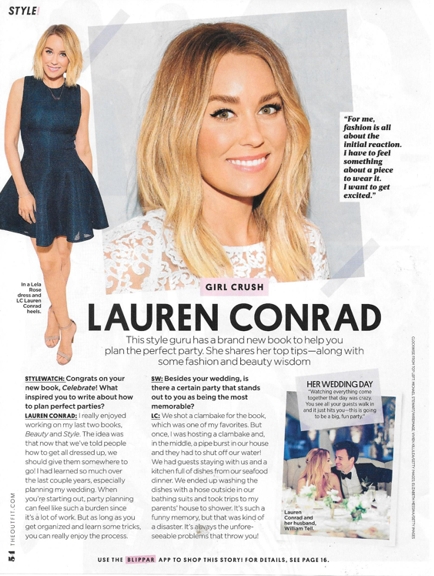 The April 2016 issue of Style Watch includes a feature on 30-year-old actress and  "style guru" Lauren Conrad. Responding to a question as to her "perfect no-fail party outfit" she replied: "It definitely depends on the event, but I think it's important to pick looks you're comfortable in. After wearing something I couldn't breathe in a few times, I just realized it's not fun. Once in a while, you can suffer through the night in a pair of uncomfortable shoes, but overall you should wear clothes you feel good in."
The March 2016 issue of Harper's Bazaar  spends 24 hours in New York with 28-year-old singer and actress Zoe Kravitz. She states: "When I'm in New York, I walk everywhere or take the subway, so I'm not one to wear heels, because your day is completely ruined if you're uncomfortable." Her focus on comfort extends to her evening activities, too:  "I don't necessarily dress up to go out at night unless I have to wear something more formal for an event. Again, I want to be comfortable, especially when I dance, so I don't put on high heels. . . ."
The March 2016 issue of InStyle profiles 24-year-old actress Shailene Woodley. On the subject of personal style, Woodley states:  "My style is dominated by my desire to be comfortable. Like, I never want anything ever constricting my stomach. I don't know how people wear jeans so often, because that band is just so tight!" InStyle continues: "When choosing outfits for red-carpet events, she says, it' snot just about looking comfortable; it's literally the nuts and bolts and straps and buttons of it all–being able to breathe, to walk, and to feel like herself."
At the same time, with maturity comes wisdom as to the benefits of being comfortable. Fashion icon Victoria Beckham, now 42,  is quoted in the March 14, 2016 issue of People magazine:  "I just can't do heels any more. At least not when I'm working. I travel a lot. Clothes have to be simple and comfortable."
Vogue stated it simply and accurately:  "We all want to be, finally, liberated form physically constricting clothes." I' m completely comfortable with that.