The March 2018 issue of the AARP Bulletin sent to all of AARP's members is a special report entitled "What They Know That You Don't:  Insider Secrets of Doctors, Plumbers, Cops, Mechanics, Vets, Waiters and 14 Other Pros." While I am happy to hear what I perceive to be surprisingly sophisticated tips from a Benjamin Moore color export on choosing paint — for example, consider the effect of sunlight from the south versus light from the north on the feeling of the room — or the tough realities of property value from a real estate expert, I found one segment of the special report seriously wanting.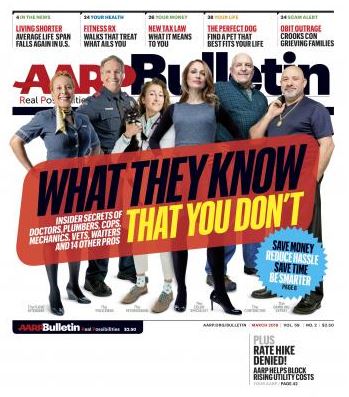 The Bulletin quotes a "veteran online shopper" identified as a "relationship manager" with a Texas firm. A veteran online shopper?  Is there anyone reading this blog who is NOT a "veteran online shopper"?
She advises comparing for identical items across similar stores — such as finding an item at Nordstrom and checking Macy's "because they're constantly having sales" to see if she can buy the item on sale. Apparently managing her relationship with Nordstrom is not a consideration. Be mindful that this strategy can seriously affect the livelihood of small boutiques in particular, which do not have the luxury of Macy's to keep moving huge amounts of merchandise out the door as fast as possible. Does Nordstrom or the boutique provide you better customer service than Macy's? Does having Nordstrom or that boutique available as a resource mean something to you? Would you be happy if Macy's becomes your only option?
She writes that she always waits for sales at her favorite store. This is not necessarily great advice. If you need something specific — perhaps a dress that fits and flatters perfectly in the exact color you'd like, in time for a wedding next month — and you find it, grab it! Waiting for a sale is not good strategy. Items sell out. It doesn't matter if you put it in your online cart. You might well have to wave your perfect purchase goodbye.
Then the "veteran online shopper" chosen as AARP's expert on the subject veers significantly off course. Her dubious advice comes in the statement "I never pay for shipping." She goes on, "If it's not free shipping, it's not for me."
The issue with this pronouncement is that the cost of shipping is built into the cost of merchandise, and what ultimately matters is the total amount you pay. Does it make sense to pay $50 for an item with free shipping, when the same item can be had for $40 or as much as $43 with $6.95 shipping?  Of course not.
If you're shopping on a website such as Amazon or eBay, you'll find that some sellers offer free shipping and others do not. It should make no difference whatsoever if what you are trying to do is to purchase the item for the lowest cost.
One additional footnote:  The advice giver is not in the AARP demographic — she's identified as being 37. There's nothing wrong with advice from a 37-year-old, to be sure, but given the advice provided, perhaps AARP would have done well to tap someone over 50 with commensurate years of shopping experience.