This month, I will keep my post brief, finding inspiration from a recent host of "Saturday Night Live" – the actor Regé-Jean Page, whose role in "Bridgerton" has made him the heartthrob of countless women. 
In the opening monologue, Page delighted us with his presence, and reacquainted the audience with the charming look of a cluster of brooches pinned to a jacket. The brooches appear to be studded with diamonds and pearls – an unexpected and elegant choice.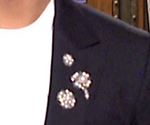 What a delightful expression of creativity! I am newly inspired to put together small groupings of my brooches and urge my readers to consider the potential in their own collections. The brooches just might encourage hearts to go all aflutter.