Over the decade, writing innumerable pieces about image and style, I have found inspiration in many a "how to" list put together by the editors of various fashion-focused publications. There are nuggets of wisdom in most all of these compilations of tips.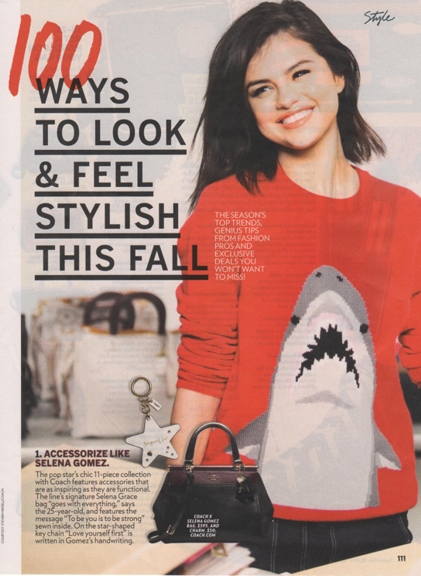 For instance, the September 18, 2017 issue of People magazine suggests "100 Ways to Look & Feel Stylish This Fall."
Some of the tips, like the opening item, "1. Accessorize like Selena Gomez" is a promotion of the actress's 11-piece handbag collection with Coach. Many other specific handbags, shoes and items of makeup are included as items that each claim a number on the list.
Other tips are trend specific:  "5. Layer a slip dress over a turtleneck." "12. Carry a daytime clutch." "14. Sport some sassy socks." These tips are likely to have a short shelf life, and should be considered in conjunction with this tip: "9. Pick and choose your trends."
Other tips are evergreen bits of advice. For instance, "10. Make something old new again." People quotes Jenn Rogien, costume designer for Orange Is the New Black:  "Every season I dig in the back of my closet and pull out something I haven't worn in a while and wear it on repeat. It doesn't cost anything, but it still makes you feel like you refreshed your wardrobe."
That tip works well in conjunction with this one: "97. Take inventory." The editors elaborate: "Do you own eight black shirts? Yet you still have your eye on another? Be honest with yourself. Write down everything you have and keep the list by your closet so you know what you definitely don't need the next time you shop."
Yet #97 conflicts somewhat with #98:  "98. Commit to your #OOTD." Regarding the choice of one's "outfit of the day," People quotes Stacie Brockman, cofounder of a branding firm: "Instagram has made everyone terrified about re-wearing outfits for the sake of being sartorially outed, but there's nothing chicer than a Steve Jobs-level uniform."
I've written several time in this blog about the benefits of uniform dressing — finding one's authentic personal style and sticking to it. Taking an inventory can be helpful in evaluating what might need to be replaced or refreshed. And if your personal uniform regularly includes black shirts, you should be on the lookout for new ones to replace any that are looking tired.
There is something wonderful about going through one's closet and rediscovering items that haven't been worn in a while. If these items make you look and feel great, let them have another day in the light. These are gifts you give yourself.
Let me add another tip: If there is something wonderful you have enjoyed wearing that is getting to the point of having seen better days, kind in mind that you may be able to replace it exactly, thanks to the worldwide market that is eBay. Brands and lines that have been discontinued may be alive in the form of vintage items currently available for sale, sometimes in brand new condition with the original tags. Vintage items are almost always going to cost far less than comparable new items.
You may also discover that your favorite designers or brands have additional items from previously released lines that you can be quite sure will prove to be flattering — a certain cut of jacket, style of pants, handbag, shoes, even a specific item of jewelry — because you already have like items in your wardrobe.
Think about any favorite item you wish you could replace, and take a look on eBay. You may be surprised and delighted with what you find.