The May 2013 issue of People Style Watch contains an excellent guide to office style in a piece entitled "Tips for a New Job!  Follow this expert advice and you'll always look office-appropriate–whether you're just starting out or mid-career."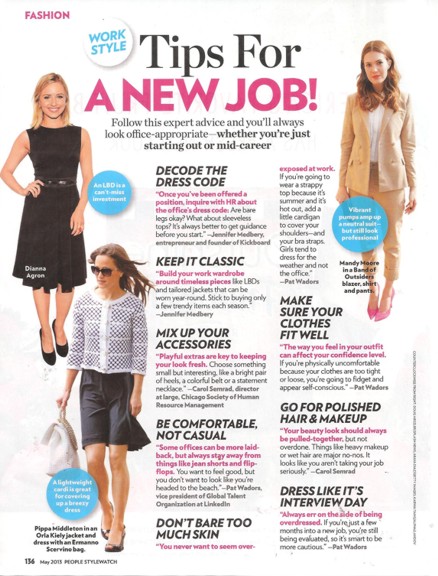 The advice is spot-on, the kind of advice you would receive from a professional image consultant. The advice includes such recommendations as "make sure your clothes fit well" and "dress like it's interview day."  With photos of Dianna Agron, Mandy Moore and Pippa Middleton illustrating appropriate professional wear, the article is helpful to every woman who works in an office setting.
Contrast the People Style Watch advice with the following, which stopped me in my tracks. "Who Says You Can't Wear Color to the Office?" asks the January 2013 issue of Lucky magazine, which continues: "Give the black and navy a rest and try these classic, work-appropriate looks in bright, bold, gorgeous colors."
I shudder to think how many human resource directors need to counsel young women as a direct result of this remarkably bad advice suggesting that wearing stripes, sequins, friendship bracelets and neon nail polish together in starting combination is work-appropriate. It may be loads of fun on the weekend, but it reflects a complete lack of professionalism in an office environment. This is a look guaranteed to take one OFF the fast track to success.