Every year, I would wrap up my jewelry blog at TrulyJewelry.com with a montage of recently published photos of spectacularly beautiful jewels. This year, for this TrulyBecoming.com blog, I wish to inspire with photos of a different theme.
Actress Julia Roberts, who turned 50 in October, is spotlighted in the December 2017 issue of InStyle magazine. She was crowned People magazine's "World's Most Beautiful Woman" for a record fifth time, and as the subject of a fashion photo shoot, she knows how to address a camera. But the photographs by Carter Smith and the fashion styling for the magazine (those responsible for hair, makeup, manicure and prop styling are identified but the overall fashion stylist does not appear to be identified) have put together one of the most exquisite fashion spreads I have ever seen.
Roberts is photographed in fashions with a Western wear theme, wearing flowing dresses, Southwestern jewelry, and cowboy boots. The above shot, featuring a lacy white dress by Chloe, is reminiscent of Runaway Bride.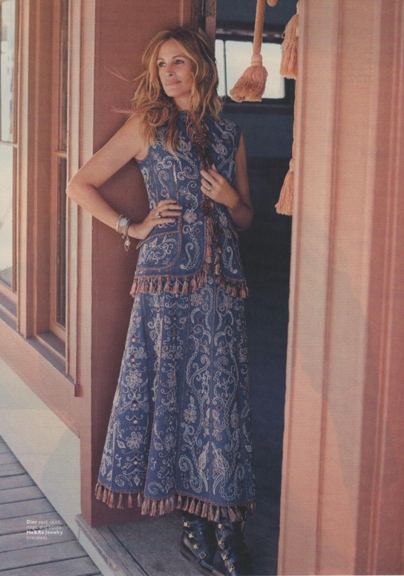 This second photo features the actress in head-to-toe Dior.
Find the styles that flatter you and give you joy, and make them your signature look. Wishing all my readers a joy-filled 2018.