Front-button shirts and blouses are a wardrobe staple for many women. Like front-button dress shirts for men, the women's garments present issues of fit that require thought and attention.
If the shirt has a collar and is to be worn fully buttoned, the fit of the collar around the neck is an important consideration. A collar too big will make the wearer look like a little boy wearing grown-up clothes that are too big for him (consider Melissa McCarthy's portrayal of Sean Spicer on Saturday Night Live for this effect); a collar too small will find itself straining around the neck or unbuttoned to provide some relief.
A second issue is the lay of the shirt down the front. Curvy women in particular may find it difficult to find shirts that do not gap around the bustline. Look for garments with shorter distances between buttons (i.e., more buttons) to minimize the extent of any gap; also look for placement of a button at the largest part of the bust (a design detail that is maddeningly difficult to find).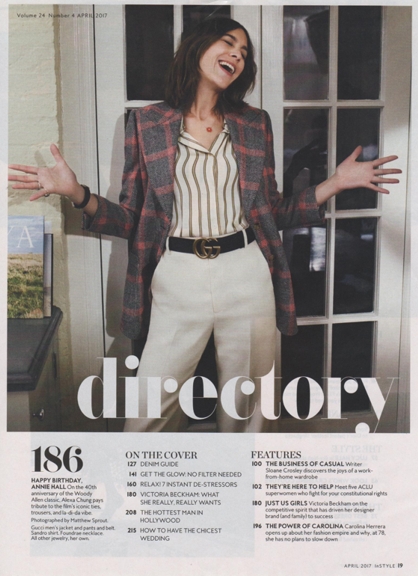 While celebrity model Alexa Chung looks adorable channeling Diane Keaton in Annie Hall in a photos spread in the April 2017 issue of InStyle magazine, the clothing selected for her just doesn't fit. The above photo exacerbates the front-button gap issue with a striped shirt, which pulls across her bust and displaces the stripes for a visually distracting effect.
Some shirts can be worn open over a tank or camisole like an overshirt, eliminating the front-button gap.
Another fix would be to add a scarf , tie or vest (the latter two choices, a la Annie Hall) to cover the front-button gap. This can be an effective way to salvage a blouse or shirt that is otherwise not wearable.
A second photo from the InStyle shoot pictures Chung in an ensemble that closely imitates a most iconic Annie Hall ensemble with a tie. But whereas Keaton's costumes were fit to her body (check the shoulder seams in stills from the movie), here the shoulder seams of the shirt are too wide and the underarm seams of the shirt pull out from the vest, for a most unflattering effect. Add to that the pants that drag on the pavement, and this photo, like the one above, goes into my Oh No! file.
Save
Save