Pleated midi skirts are once more on fashion's radar, and they can provide a graceful element to an ensemble. The March 5, 2018 issue of People presents color-block, printed, and leather versions – the leather pleated style pictured on Alicia Keys by an unspecified designer particularly attractive and intriguing.
Take a closer look at the photo of Gwyneth Paltrow wearing a printed design, and you can see the issue that arises with these skirts: the uneven hemline. Her skirt, by an unidentified designer, emphasizes the issue with the dark, solid bottom edge of the fabric of the skirt. The back of her skirt is shorter than the front.
Anyone blessed with significant bootie is well aware of this phenomenon. I recall constructing a skirt suit as a project at a design college class I took some years ago. Remarkably, I had no issues creating a wearable jacket, but the skirt was another thing entirely. I had neglected to add extra length to the back of the skirt to accommodate my derriere. The skirt had to be re-sewn.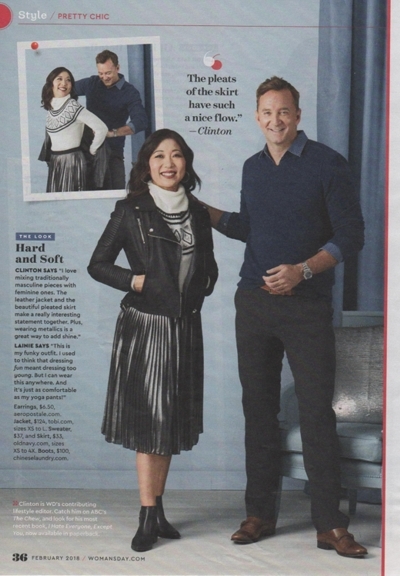 With a wide, flowing skirt, rather than a closer to the body pencil skirt, the issue of an uneven  hemline becomes more noticeable. The February 2018 issue of Women's Day pictures an ensemble with a metallic pleated midi skirt from Old Navy with a hemline that is not parallel to the floor.
Wider pleats and fancier designers do not necessarily ensure that the issue will not arise. Here is actress Emilia Clarke wearing a beautiful floral dress by Dolce & Gabbana, as pictured in the December 2017/January 2018 issue of Harper's Bazaar.  It appears that the dress is intentionally designed to have a longer hemline in the front than in the back.
Perhaps Dolce & Gabbana are taking a common problem experienced by curvy women and turning it intentionally into a new fashion trend. Time will tell. Unless and until that happens, cast a critical eye on your skirts. The hemlines should be parallel to the floor.