Almost every ensemble becomes more polished with the addition of tasteful jewelry —  jewelry that is not only cohesive with the ensemble itself — the garments, shoes, handbag and any other accessories — but also flattering to the person wearing it.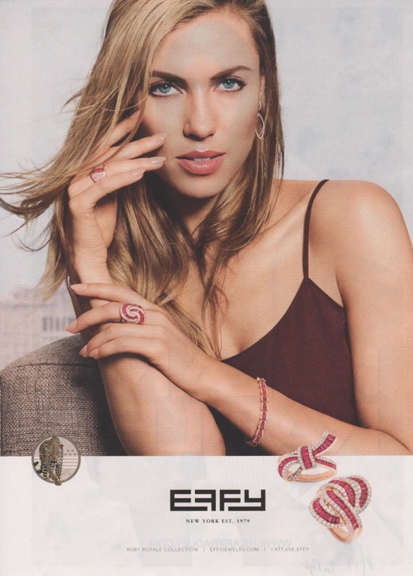 I was struck by this ad from a high-end design house, which features an exquisite suite of ruby and diamond jewelry. The beautiful model wears two chunky rings, a tennis-style bracelet, and a pair of earrings.
The model has generously sized features — eyes, nose and mouth. Consider how the jewelry selections relate to her. While the other pieces of jewelry in the photo have plenty of presence, the earrings are quite delicate –  too delicate to be flattering to the woman, as lovely as they are. The slender linear design of the earrings has the effect of drawing attention to the model's nose and making it appear relatively larger.
This effect could be easily remedied by having the model wear earrings of a design more akin to the chunky design of the rings. Changing the scale of the earrings would be more flattering to the woman.
Save