As Ingrid Schmidt wrote in the Image section of the September 11, 2015 Los Angeles Times, "A revival of women's power suits may be a fashion bonus to emerge from this tumultuous presidential election season. With the potential of having the first female U.S. president, sharply tailored suiting somehow feels right right now in womenswear."
Hillary Clinton, a self-described "pantsuit aficionado" has a well-documented wardrobe of pantsuits in a rainbow of colors and textures, which she has favored since serving as Secretary of State. You'll recall that her predecessor in that role, Madeleine Albright, had a similar uniform of tailored suiting with skirts in lieu of pants. For a professional woman, no look carries more authority than one topped with a tailored jacket. As Schmidt notes, celebrities including Beyonce, Rihanna, Rita Ora and Kirsten Stewart have also been photographed in suiting looks, proving that this professional woman's staple has moved into the realm of fashion.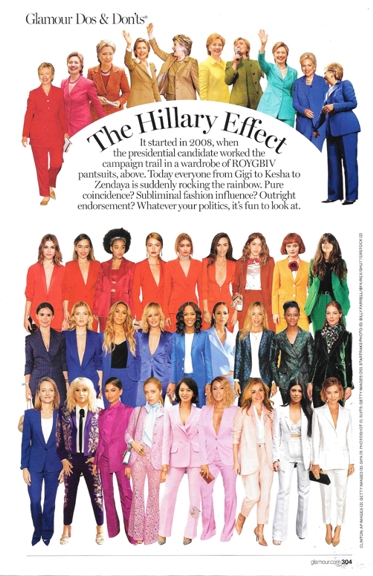 Illustration:  "The Hillary Effect" documented in the September 2016 issue of Glamour.
Let's consider some of the many reasons why pantsuits are such a wonderful option:
Footwear Choices:  Pants allow for comfortable low-heel shoes and give the wearer a long lean look without high heels. For someone on her feet a lot, this is no small benefit. I've written many times on the subject of "shoe sanity" —  the reasons to favor low-heel shoes.
Legwear Choices:  Hosiery, or rather, the fashion world's view that hosiery is tacky, becomes a non-issue. Bare legs with a skirt suit or dress works well for women with shapely legs and excellent skin; not so well for everyone else. With pants, one may wear hosiery or bypass it. With appropriate low heel shoes, trouser socks too may be an option. A peek of hosiery at one's ankles does not cause fashion followers to cringe.
Adaptability:  Having a removable jacket as part of one's ensemble is a wonderful feature when one is moving in and out of different environments. Pants are warmer than skirts — a benefit when one is traveling on cold airplanes or sitting in cold offices, irrespective of the weather outside. And if the temperature is warm, a jacket can come off. As a bonus, the jacket from a pantsuit may mix with other wardrobe pieces, including skirts and dresses.
Accessories Change the Look: A small wardrobe of pantsuits combined with a wardrobe of blouses or tops plus scarves and jewelry create a multitude of looks. Color and pattern catch the eye. Tasteful jewelry adds authority and sophistication.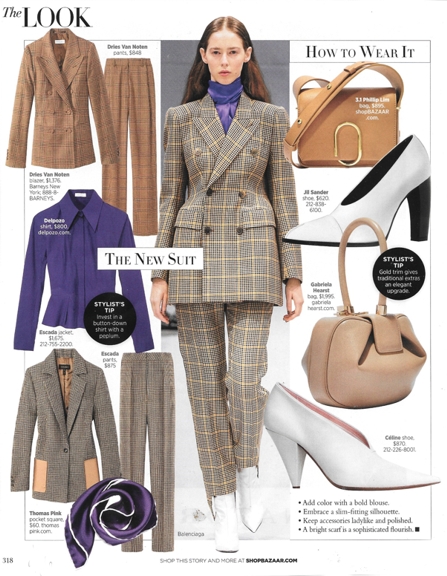 Illustration: "The New Suit" with accessories featured in the September 2016 issue of Harper's Bazaar.
Figure Flattery: The long, lean monochromatic look of a pantsuit, well chosen, flatters every figure. Schmidt quotes celebrity stylist Kemal Harris: "Luckily, pant legs are definitely wider and waists are moving higher, which is great news because this drapey, flowing style is universally flattering."
A well-tailored pantsuit is a worthwhile investment — authoritative in appearance and comfortable to wear. That's something that every professional woman , whatever her political leanings, can support.
Save