There was a time not so very long ago, when seemingly every style-conscious woman with less than perfect eyesight found contact lenses to be an essential component of day-to-day living. Finding perfectly comfortable lenses was often a challenge. In addition, there remained the necessity of having standby eyeglasses to fill in when one went swimming or removed the contact lenses at the end of the day.
Today eyewear is the epitome of chic and for many women, myself included, contact lenses are a thing of the past. Meeting my now-husband, I was thrilled when he told me that he likes the way I look in glasses. That's all the encouragement I needed to abandon contact lenses and to focus on finding attractive spectacles.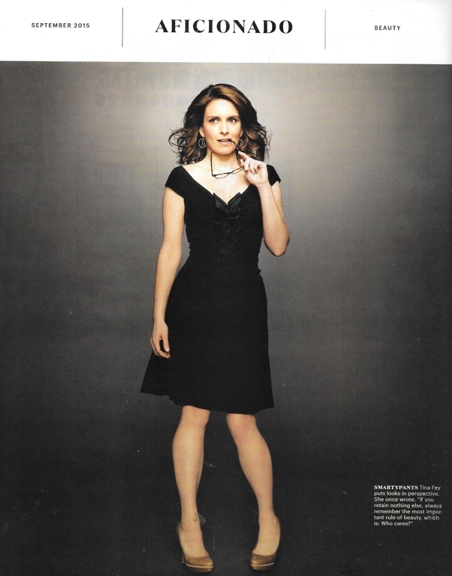 "Smart Is the New Beautiful" reads a headline in the September 2015 issue of More magazine. More notes: "So pervasive is the idea that intelligence confers desirability that more and more you will see beautiful people sporting glasses, the universal symbol of braininess." Examples of celebrities mentioned but not pictured are Patricia Arquette, Jennifer Garner, and Michelle Williams. Pictured above is Tina Fey.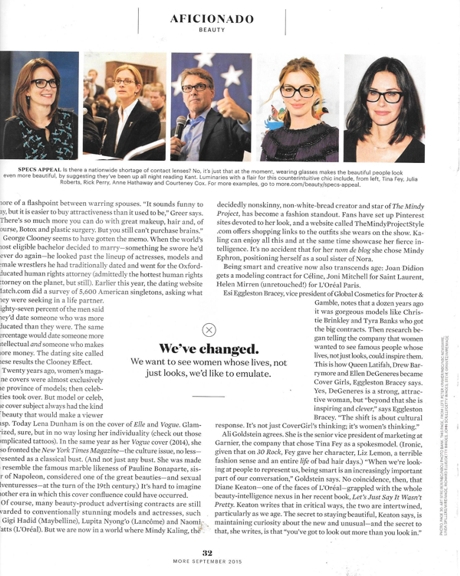 The September 2015 issue of More includes a series of photos labeled "Specs Appeal," inquiring, "Is there a nationwide shortage of contact lenses? No, it's just that at the moment, wearing glasses makes the beautiful people look even more beautiful, by suggesting they've been up all night reading Kant. Luminaries with a flair for this counterintuitive chic include, from  left, Tina Fey, Julia Roberts, Rick Perry, Anne Hathaway and Courteney Cox."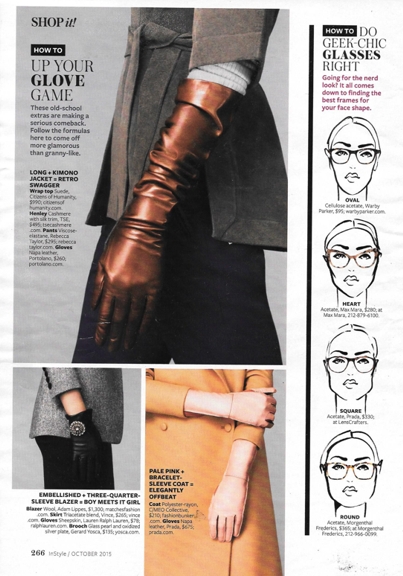 The October 2015 issue of InStyle includes a short graphic feature entitled "How to Do Geek-Chic Glasses Right."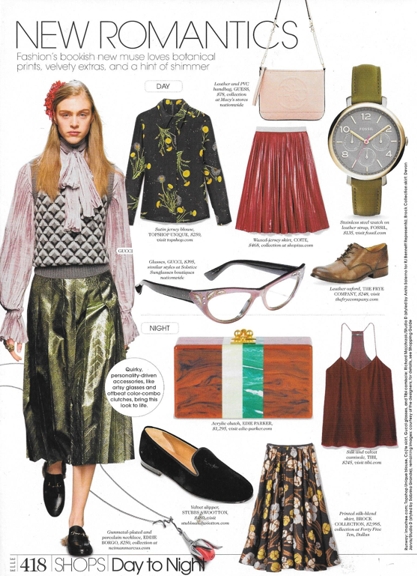 A look described as "New Romantics" in the September 2015 issue of Elle included geek-chic eyewear from Gucci.
In a feature entitled "Geek Chic," the September 2015 issue of Good Housekeeping reports:  "Nerd alert: Frame your face with stylish specs that are better suited for the boardroom (or bar!) than the classroom."
With eyewear playing such a prominent role in one's style these days, it's a great idea, if the budget permits, to have an extra pair of glasses in a fun color and shape — perhaps even to build a wardrobe of stylish frames.
Your eyewear draws every viewer's eye. Be sure to coordinate your jewelry with your eyewear– particularly earrings, necklaces and brooches worn near your face– and let the chic glasses play the starring role. You are sure to look both smart and chic.