The April 2021 issue of Elle magazine reports: "The new breed of investment staples comes with an infinitely renewable life span." In these days of far-too-disposable fashion, this is music to my ears.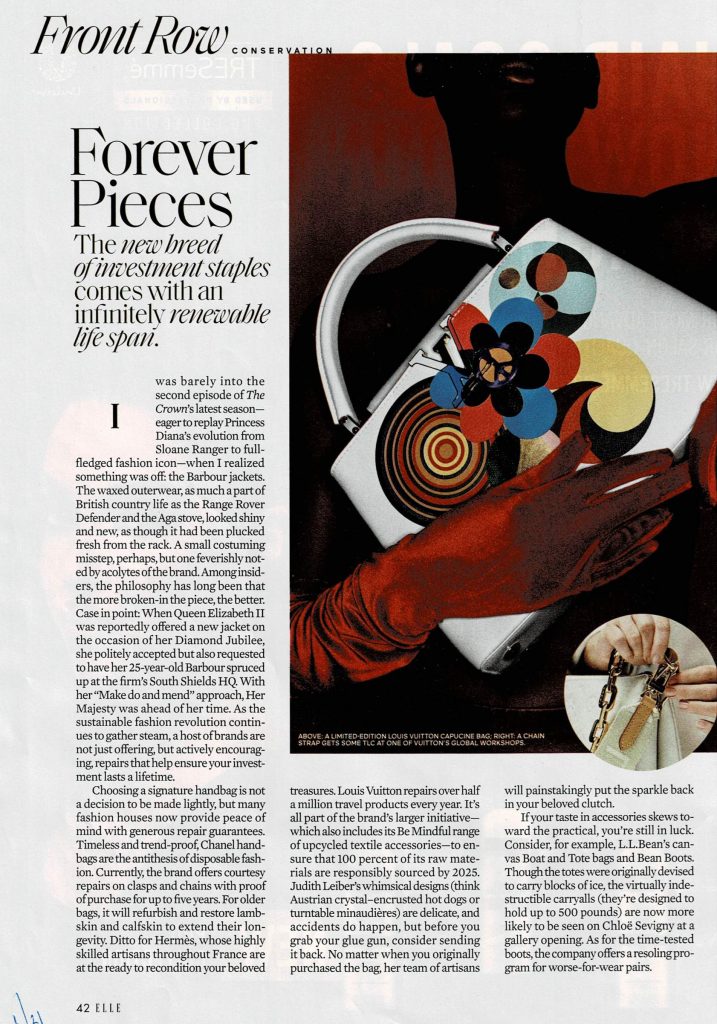 Elle magazine identifies brands that "are not just offering, but actively encouraging, repairs that help ensure your investment lasts a lifetime." Here's a quick summary of the brands identified by Elle, which I have not independently verified:
Chanel currently offers courtesy repairs on clasps and chains with proof of purchase for up to five years. Chanel also will refurbish and restore lambskin and calfskin.
Hermes offers reconditioning of leathers.
Louis Vuitton "repairs over half a million travel products every year."
Judith Leiber will restore the brand's Austrian crystal-encrusted minaudieres no matter when the bags were purchased.
L.L. Bean will resole its Bean Boots.
Rolex places no time limit on repairs to its timepieces.
Brunello Cucinelli, which "specializes in pieces with heirloom appeal," "offers what is perhaps the most generous service policy on record, with free repairs for the lifetime of a garment."
Church's bespoke shoes come with lifetime servicing of the shoes.
Turnbull & Asser offers a replacement service for the collars and cuffs of its shirts.
And finally, Barbour, loved by the British royal family, will spruce up decades-old jackets for not only royals (citing the queen's "make do and mend" approach), but also for us common folk. It's enough to make one feel rather like a princess.
I suspect that other brands with pride in their products will honor requests for restoration and refurbishment of their quality products, at least when it comes to leather goods and jewelry.
I have more than once contacted artisan designers directly for assistance with jewelry that needed a minor repair or replacement part and each time was delighted to find that assistance was available. If the piece is still in production, or if the designer keeps an inventory of spare pairs for pieces no longer in production, you may be pleasantly surprised with the customer service that helps make your treasures truly forever pieces.