It is my tradition at the end of every year to post images that provide visual delight in the exquisite work of designers and artists who create beauty.
During this most difficult year of 2020, we have each individually found ways to combat the boredom of isolation and the restlessness due to Covid-restricted activities. Channeling our energy into the creation of beauty is a wonderful way to achieve this.
I am blessed to have friends and acquaintances who have been able to create and to donate masks or meals to assist front line workers. These works of creativity and charity are beautiful indeed.
Clearing out the clutter and finding ways to repurpose items that someone else might find to be more useful or lovely is also a worthwhile use of one's time.
Learning how to maximize and appreciate what we have in our wardrobes and possessions is another valuable endeavor, as we reflect upon what is truly flattering and what gives us joy.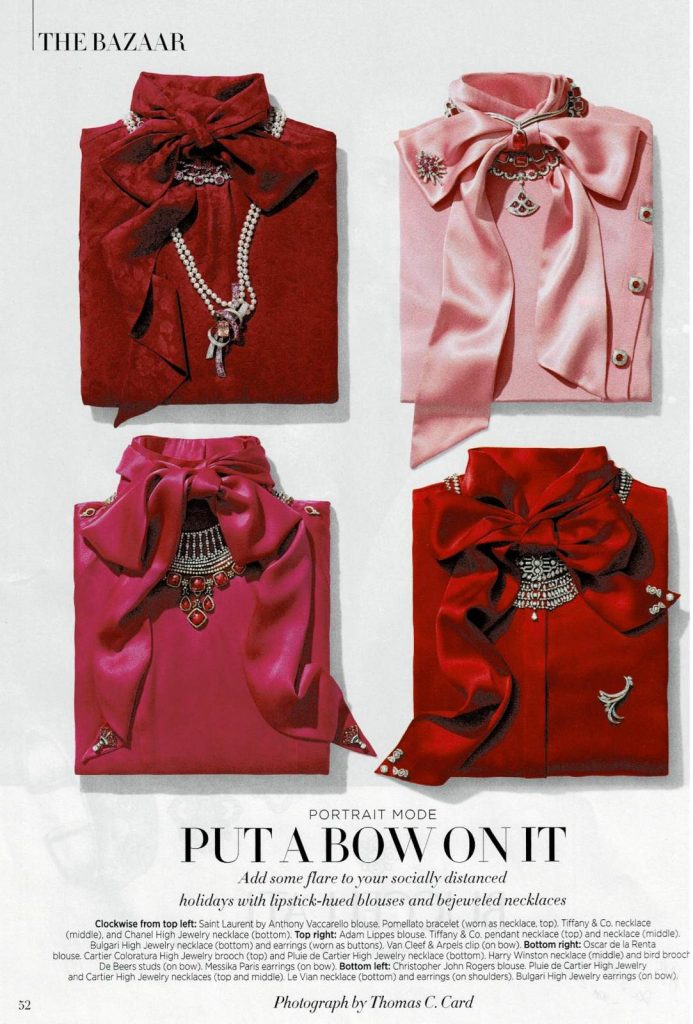 With that in mind, I am closing for my year-end post this year an eye-catching montage of looks from the December 2020/January 2021 issue of Harper's Bazaar, which suggests: "Put a Bow on It: Add some flare to your socially distanced holidays with lipstick-hued blouses and bejeweled necklaces." The combinations of bow blouses with necklaces and surprising uses of earrings and brooches as accents to the blouses makes for delightful and surprisingly creative results.
As the year ends, let us find time for reflection, creativity and always, joy. Wishing all my readers much beauty and a happy, healthy 2021.