It's true – you can bring attention to your eyes by what you wear on your feet. Indeed, you can bring attention to your eyes or lips or hair – those features as far away as can be from your shoes. This is possible through the strategic use of color.
Pops of color have been a thing for several years now (I wrote a blog post about the phenomenon back in August 2012). I approached the issue from finding an irresistible accessory in a vibrant hue and considering how to make the pop of color work.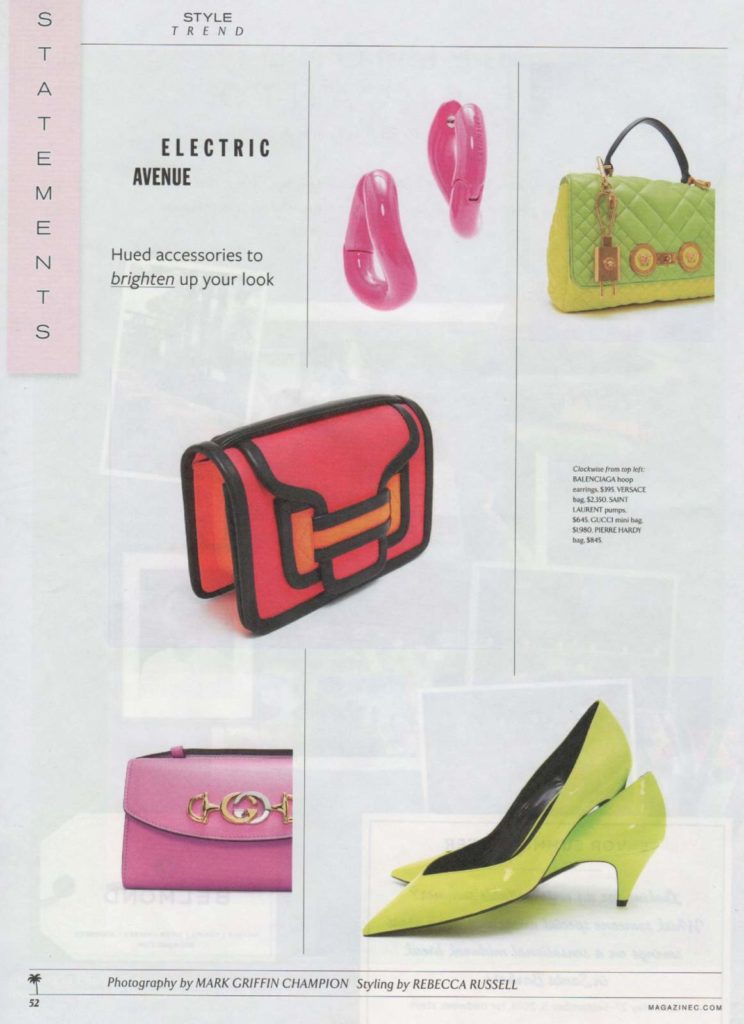 Illustration:  Tempting vibrant hues of accessories pictured in the Summer 2019 issue of C California magazine.
As I wrote then, "The addition of a hue to an ensemble works best when it is repeated elsewhere in the ensemble, because repetition provides a pleasing sense of visual harmony. Reds, pinks and corals often coordinate with lipstick. Nail polish this season is all about bold color, and can easily repeat or approximate an accessory's hue. Gemstones set in jewelry also can be selected to coordinate with the favored color.  This season is all about prints, and finding a print that repeats the color is easily accomplished."
I continued: "If you are determined to utilize a single pop of color, consider its visual effect. Where does the pop of color draw the eye?  Shoes draw all eyes downward, so  if you're thinking about a pop of color via your shoes, consider whether your feet is where you want people to be looking. If you have great legs and want the eye to sweep down over them, great. Otherwise, the effect suggests fashion victim rather than creative chic."
Rather than starting with a random hue that catches your fancy for your footwear, consider focusing on colors that are part of your personal color palette. In particular, since it is always a good approach to have people focus on your face, look to the color of your eyes or your hair to determine what color shoes to wear.
Repeating your hair color is not difficult. Black shoes are perfect for someone with black hair, as are brown shoes for a brunette, reddish brown shoes for a redhead,  and camel color shoes for a blonde. Grey shoes are gorgeous for someone with silver hair. If you have gone creative in your hair color with streaks of blue or pink, wearing a matching hue on your feet will bring additional emphasis to your creative choice.
White shoes are back in fashion this season and present a bit of a challenge. Unless you have white hair, they can tend to draw the eyes down to your feet and stay there. The more white in your ensemble, the less this is likely to happen. If you have darker skin or a deep tan, white shoes can bring emphasis to the whites of your eyes and teeth.
Bringing attention to your mouth is as simple as repeating the color of your lipstick, or the natural hue of your lips, in your shoes. Lipstick red shoes call for red lipstick.
Repeating your eye color in your dressier footwear is easy to accomplish if you have dark eyes. With athletic footwear, you can readily find combinations of blue and green to compliment any color eyes.
I was intrigued to see actress Tilda Swinton in the June/July 2019 issue of Harper's Bazaar pictured in a sunshine yellow dress that coordinates with her blonde hair, accessorized with baby blue pumps – shoes that match the color of her eyes. The effect is memorable. She is drawing attention to her eyes by what she is wearing on her feet.