The January 21, 2019 issue of People magazine recommends an ensemble inspired by Princess Kate as "the perfect work outfit":  "a classic, easy-to-wear ensemble for whatever is on your agenda."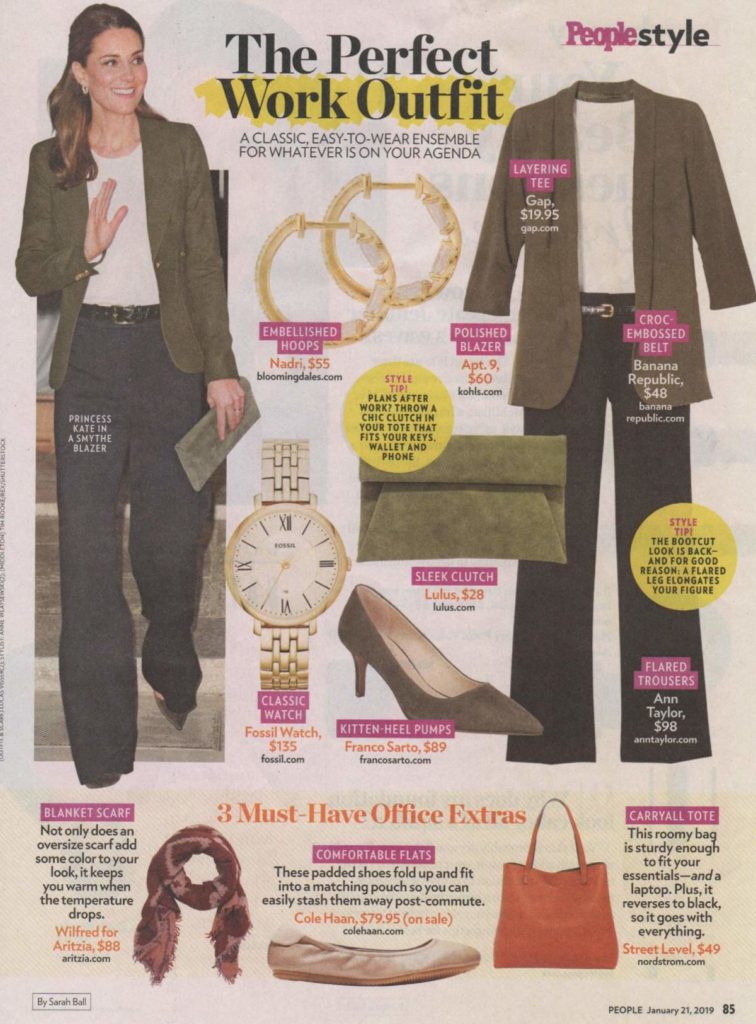 The ensemble consists of bootcut trousers ("a flared leg elongates your figure"), a layering tee in basic white, and a polished blazer, accessorized with hoop earrings, a classic wristwatch, a sleek clutch (recommended for after work activities), and kitten heel pumps. The look is a genuine classic – a great look for when professionalism is paramount.
People further recommends "3 must-have office extras":  a "blanket scarf" ("Not only does an oversize scarf add some color to your look, it keeps you warm when the temperature drops"); a carryall tote (roomy and sturdy enough to fit your essentials and your laptop), and comfortable flats. People recommends padded shoes by Cole Haan that fold up and fit into a matching pouch "so you can easily stash them away post-commute."
The recommendations for a colorful scarf and a roomy tote are excellent, as is the idea of comfortable shoes for one's commute. However, the completely flat foldable shoes pictured do not work with the bootcut pants for the simple reason that the pants have been hemmed at a length appropriate for the two- or three-inch kitten heels pictured. Wearing the flats with the pants almost guarantees that you'll be stepping on the bottom of your pants, soiling them if not also tripping over them. This simply doesn't work.
What is the solution? The hemline determines your heel height. Find shoes comfortable enough for the commute that are the same heel height as the shoes you intend to wear at the office. Save those foldable flats for commuting on days when you are in a dress or skirt.