It is with some amusement that I saw this page of 101 style ideas in the November 2018 issue of Marie Claire. Nine examples of wearing athletic sneakers are described as "the best ways to wear the surprisingly versatile chunky white trainer." While six of the examples pair the sneaks with trousers, worn either with a sweater or a coat, three show the white shoes paired with long print dresses.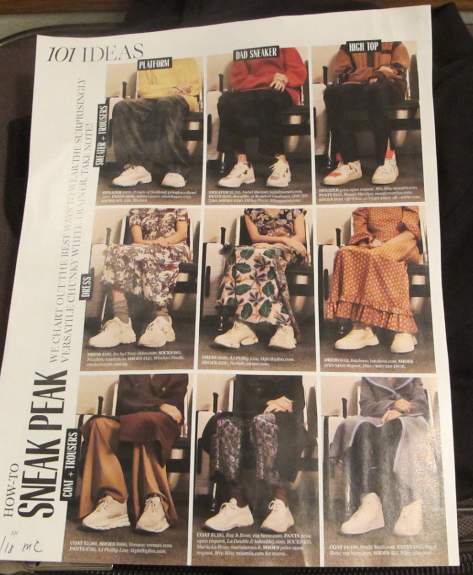 Back in the 1980s, it was common in my home town of Chicago, for career women dressed in their power suits to walk all or a good portion of the way to work. For many of us, wearing sneakers was part of the ensemble. The look became so ubiquitous and, some would say, so annoying, that the Chicago Bar Association's Christmas Spirits gridiron show dedicated a number to the phenomenon. I'm proud to say that I contributed the idea for the number, using the 1940s hit "I Don't Walk to Walk Without You"; the Bar Show writers penned some dandy lyrics that started: "I don't want to walk without my Nikes, Pumas or Adidas or my Nikes. . . ."
The look of white sneakers with a dress or suit, or even with dark trousers, has not aged well. It draws the eye to the wearer's feet, and the feet look bigger than usual in the chunky white shoes. There are all manner of low-heel pumps and flats in dark colors that can match trousers or tights, or coordinate with the colors in long skirts, and provide both comfort and a much less jarring version of style.