The September 2018 issue of Marie Claire magazine spotlights a classic jewelry design:  button earrings. Calling them a "retro-classic style more playful than stuffy," Marie Claire looks to jewelry designer, stylist and vintage jewelry aficionado Jill Heller for her insights on why acquiring this style is "worth it."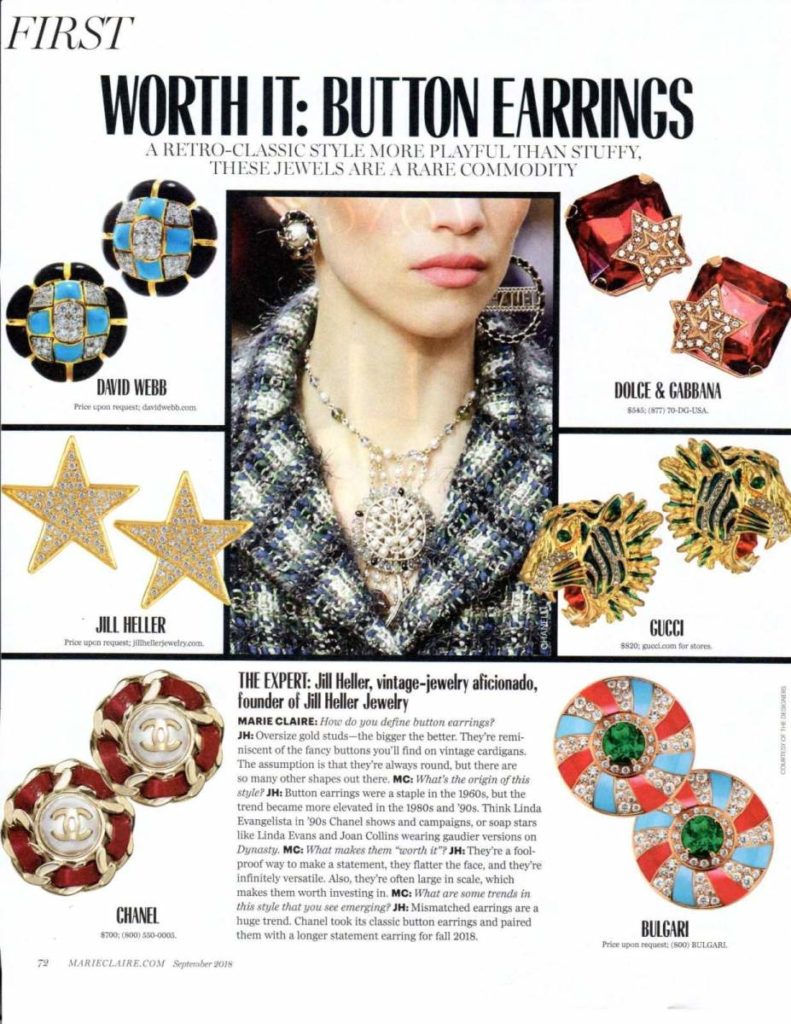 Heller defines button earrings as "oversize gold studs—the bigger the better," but of course button earrings can be constructed of any type of metal, including gold, sterling silver, copper, platinum at the high end, and all type of base metals or other materials including a wide range of vintage plastics in costume jewelry. She adds that button earrings are "reminiscent of the fancy buttons you'll find on vintage cardigans. The assumption is that they're always round, but there are so many other shapes out there."
Illustration:   Classic pearlized vintage button earrings, under $15. https://www.ebay.com/itm/183508412724
What all button earrings have in common is that they are as wide as they are tall and symmetrical. They are universally flattering because they draw the viewer's eye up to the earring wearer's face. Longer dangling earrings, in contrast, can draw attention down to the wearer's neck.
As Heller notes, button earrings were a staple in the 1960s. Alexis Carrington wouldn't be dressed without her clip-back button earrings on Dynasty. You can find a treasure trove of vintage button earrings on eBay that won't break the bank. There you will find innumerable clip back and older screw back earrings for non-pierced ears, as well as post-style pierced earrings.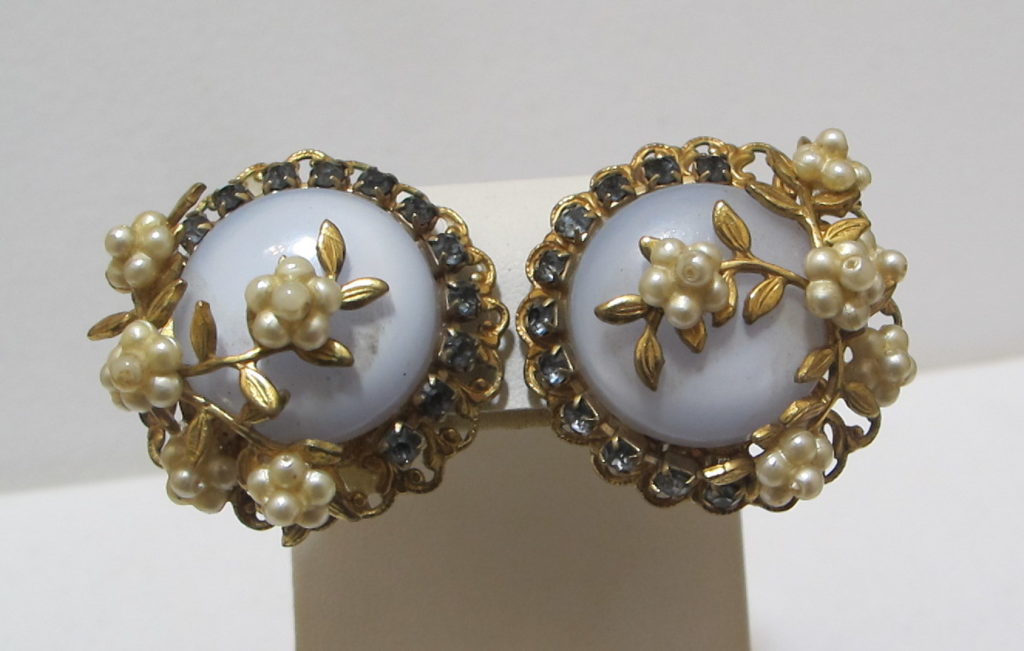 Illustration:   Embellished buttons, under $30. A design for the Dolce & Gabbana aficionado. https://www.ebay.com/itm/173606677049
If you decide to explore the wealth of offerings on eBay, don't limit your search too much. The term "button" is considered an old-fashioned term and is not used in most listing titles. Instead, do a search looking for the specific features of the earrings you seek:  round, square, star shape; rhinestones, enamel, (faux) pearls, Lucite; translucent, luminous, colorful, one color, gold or silver tone, sparkling, over-the-top.
One inch earrings, about the size of a quarter, are the standard for earrings that are eye-catching but office appropriate. Go larger for even more visual impact. It's time to bring back button earrings.