The September 2018 issue of O, the Oprah Magazine contains an extensive and extraordinary fashion spread focusing on plus-size fashion. Oprah breathlessly announces it in her "Here We Go!" editor's page comment: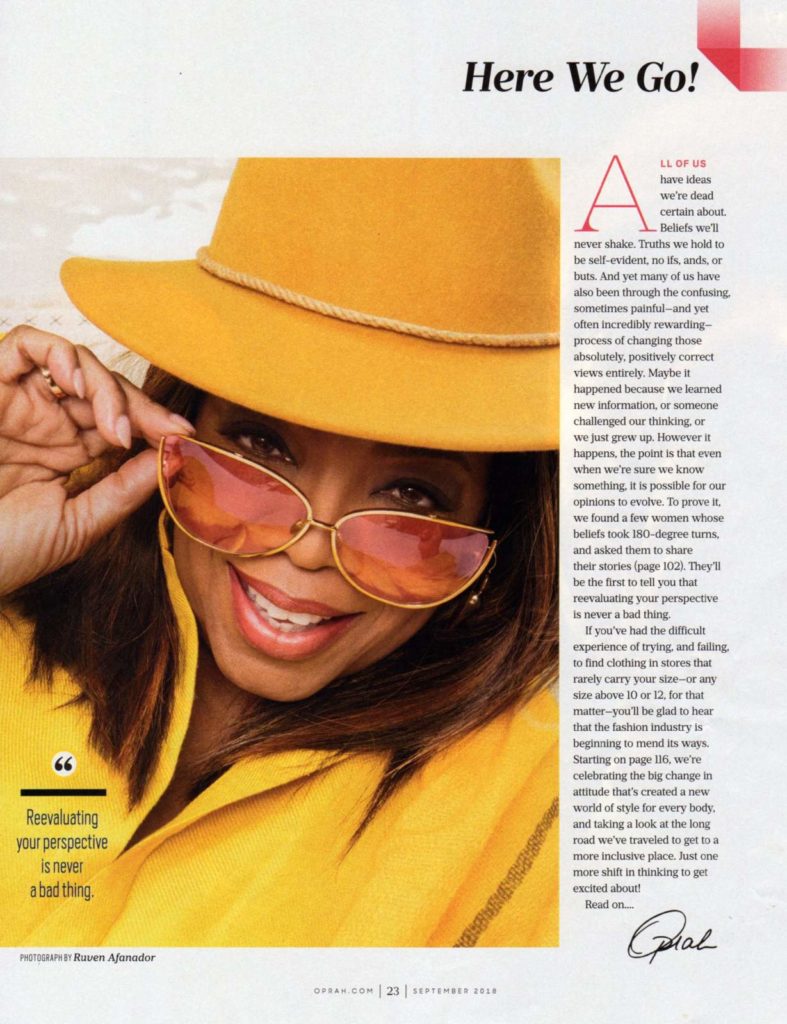 "If you've had the difficult experience of trying, and failing to find clothing in stores that rarely carry your size—or any size above 10 or 12, for that matter—you'll be glad to hear that the fashion industry is beginning to mend its ways.  . . . [W]e're celebrating the big change in attitude that's created a new world of style for every body, and taking a look at the long road we've traveled to get to a more inclusive place. . . "
If only Oprah had come clean, and written "If you've – like I have – had the difficult experience of trying, and failing to find clothing . . . ."  This is part of a pattern of Oprah's downplaying and even ignoring her personal history relating to size. Why is she so coy about what has been in plain sight, when her personal experience could be so helpful to her readers?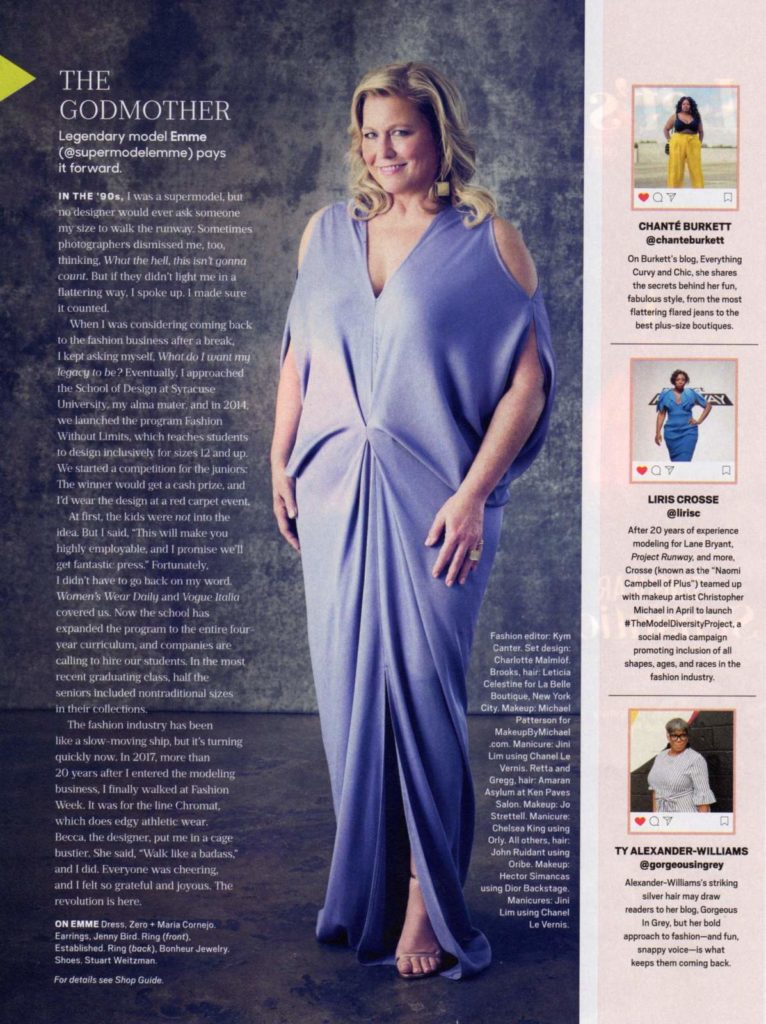 Illustration: Emme, perhaps the original famous full-figured model, is featured in the magazine spread.
Before her famous reveal of the wagon full of fat representing the weight she lost on Optifast back in the 1980s (a reveal that got me and countless others to sign up for the program), Oprah's shopping habits had some notoriety in the upscale stores of Chicago's Magnificent Mile on Michigan Avenue. According to a saleswoman at one of those stores, Oprah's assistants would remove size tags from the designer or bridge garments purchased on her behalf so she wouldn't see the double-digit sizes being purchased for her. I was advised by another style expert that Oprah's assistants would on occasion purchase more than one identical designer garment and then piece them together to create a single garment that better fit and flattered the celebrity host. Of course, Oprah may have been ignorant of some or all of what was being done to shield her from the harsh realities of the sizes she required – thus, the subterfuge by her shoppers and staff. Are these stories that were relayed to me by people in the fashion and style industries true, or mere urban legend? I can't say for sure, but they do reflect remarkable creativity in sidestepping the issue of size.
On a more personal note, I introduced a line of fine jewelry for the plus-size market in 2003. My pieces were featured in Good Housekeeping and InStyle magazine, among others. However, when my publicist contacted the Oprah organization, she was told that the magazine staff was not interested in looking at or promoting my offerings "because Oprah is not plus-size." Even if that description was true at the time, Oprah has demonstrated through her organization over the years a disdain for any designer catering to full-figured women. It's nice finally to see a more inclusive approach to fashion.
There's an interesting little caption on the photo of Oprah on her editorial page, which reads: "Reevaluating your perspective is never a bad thing." Oprah, let's hear your story of dealing with dressing as a woman wearing size 12 and up.  Now that would give us some perspective on the fashion world's change of attitude.