As an image consultant, I advise my clients that jewelry can do much more than add a finishing touch to an ensemble. Chosen well, jewelry can also draw attention to one or more of the wearer's best features.
For instance, someone with green or blue eyes may choose jewels of a similar hue to relate to her or his eye color. Repeating the hue provides pleasing harmony and brings the viewer's eye back to the wearer's eyes.
Jewelry can also provide directional emphasis. For instance, a long necklace can provide a vertical line that draws the viewer's eye up and down.
A particularly fine example of the power of jewelry to spotlight a feature appears in the March 2018 issue of Harper's Bazaar. Focusing on "the quest for a younger-looking neck," the magazine promotes a neck cream sold on its web site and illustrates the sought-after effect with the photo of a model wearing huge earrings with a triangle-shaped drop from Saint Laurent by Anthony Vaccarello.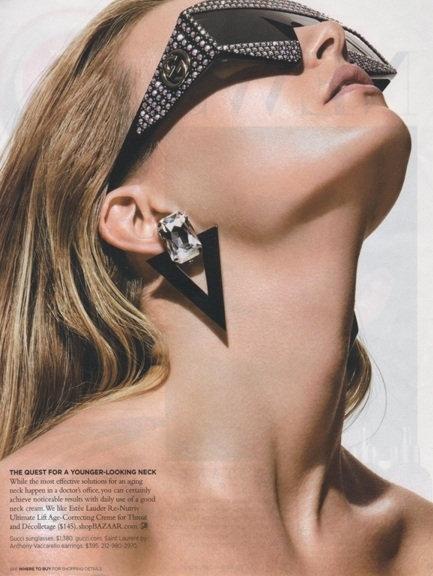 Notice how the earrings point to the model's neck. Not even the crystal-studded Gucci sunglasses distract from this effect.
For many women over 40, spotlighting the neck is not the desired effect. When choosing earrings, be mindful of how the earrings draw attention to your features. Long dangling earrings can end at a spot where they draw attention to your neck. And earrings as arrow-like as those in the photo above will bring every eye to that precise spot.