Perhaps one of the world's most recognizable, prestigious and expensive fashion labels can afford in an ad to promote a look that is destructive to the wardrobe of the wearer because presumably the wearer can easily afford to replace it.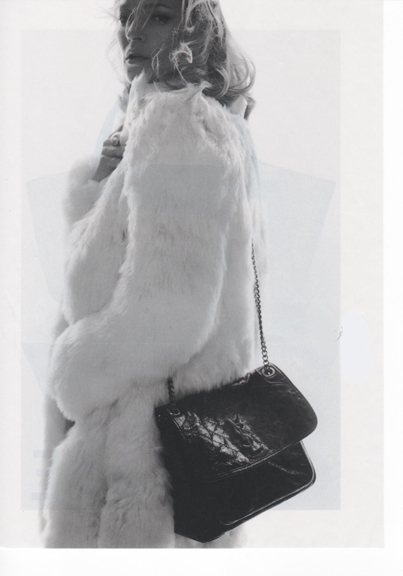 Here's the ad, which appeared in the January 2018 issue of Vogue magazine. The woman is wearing a fur coat, and has slung over one shoulder a chain-strap designer bag. The coat is white; the bag is black.
I assume the bag is color-fast. However, that bag will be rubbing or bouncing against the side of the wearer, which in time will cause the coat to show wear if not discoloration due to whatever dirt is carried on the surface of the bag.
Even more damaging is the strap. The links of the chain will be doing serious damage to the soft surface of the coat, especially where the weight of the bag pulls down on the shoulder. The damage will be immediate and irreversible.
When wearing fur or faux fur, or any garment with fragile material on the shoulders, never wear a shoulder strap bag and never ever even think of wearing a shoulder strap made of chain. What an unfortunate image for a fashion label to promote.