Last month in my blog I celebrated the exuberance of mixing prints and colors, a most creative means of self-expression. This month I celebrate the return of perhaps the most elegant means of self-expression through fashion: tone-on-tone dressing.
Many if not most women find wearing head-to-toe black, accented with nothing more than the warm or cool metal of jewelry, a sophisticated look. Mixing black pieces is easy to do, as the subtle variations in shades of black rarely read as a mismatch. Black-on-black is sometimes considered the epitome of city dressing.
Wearing another head-to-toe color is more challenging and decidedly more expensive, but the efforts and expense can be worthwhile. Two hues represent the pinnacle of tone-on-tone dressing this season:  camel, and wine or burgundy.
The gentle hues of camel soften the look of menswear-inspired suiting in this look from Max Mara pictured in the September 2017 issue of InStyle.
Extending the tone-on-tone dressing to outerwear heightens the sophisticated look of a camel-hued Hermes ensemble. The ensemble is given a modern twist with darker sandals worn with camel socks, pictured in the September 2017 issue of Harper's Bazaar.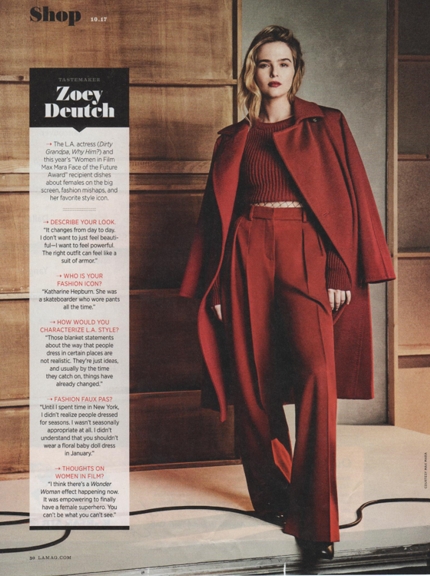 The influence of street style is also seen in this styling of a wine-hued Max Mara look by actress Zoey Deutch in the October 2017 issue of Los Angeles Magazine.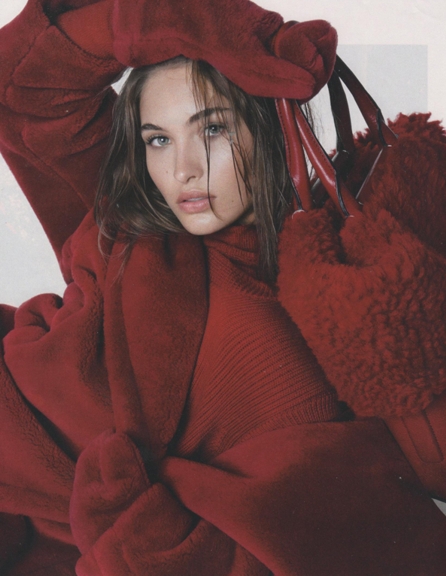 Elegant, cozy comfort in beautiful burgundy hues is captured in this seasonal ad from Max Mara.
Lest you think it can be a challenge to go head-to-toe matchy-matchy, rest assured — it can be. However, as this spread from the September 2017 issue of Harper's  Bazaar illustrates, the time to find matching accessories is now, while these colors are on-trend. From shoes, handbags and purses, to delightful burgundy-accented jewelry, a favorite color can be repeated and emphasized with even the smallest details of an ensemble. The end result will look expensive, sophisticated, and decidedly elegant.