A tiny blurb in the May 2017 issue of InStyle magazine announced: "Teresa Maccapani Missoni brings her family's luxe Italian glamour to Eloquii for an inclusive-size line of feminine dresses and separates in a resort-ready palette of white and azure." Eloquii.com is a fashion site for sizes 14 to 28, and Missoni is its first-ever designer collaboration.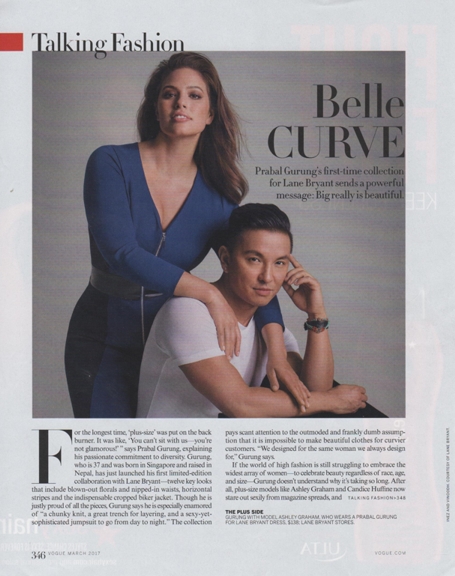 Designer Prabal Gurung is also receiving a good amount of press for his new collection for Lane Bryant in sizes 14 to 28. The April 2017 issue of Glamour reports that Gurung collaborated with Lane Bryant after he had "no luck getting luxury department stores to sell his line as plus-sizes." The March 2017 issue of Vogue also spotlighted the collection.
At the same time, in a feature in the April 2017 issue of Glamour, "Hey Stores: Where's My Size?" writer Lauren Chan and four full-figure fashion bloggers shopped clothing stores in Atlanta, Chicago, Los Angeles, New Orleans and New York, and found no plus-size clothing whatsoever at 41 of the 69 stores.
For many full-figured women, Salon Z at Saks Fifth Avenue (remember the campaign "Saks First") truly was their go-to choice for professional wardrobe and special-event dressing. Now Salon Z exists on-line only.  Nordstrom's plus-size focused Encore department at its spanking new store in the large mall near my home had only a pitiful couple of racks of dated sale merchandise in plus sizes when I visited. Despite the increase in demand for plus-size fashion, the demographic is being served more by specialty retailers and boutiques.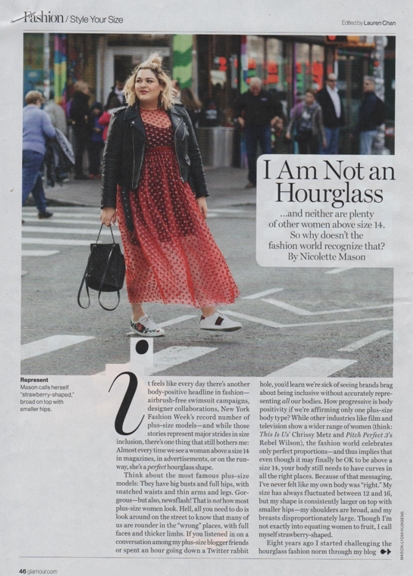 There's an issue aside from sizes, too — full-figured women, like women of all sizes, come in a variety of shapes. "I Am Not a Hourglass" writes Nicolette Mason in the June 2017 issue of Glamour. Mason writes:
"It feel like every day there's another body-positive headline in fashion–airbrush-free swimsuit campaigns, designer collaborations, New York Fashion Week's record number of plus-size models–and while those stories represent major strides in size inclusion, there's one thing that still bothers me:  Almost every time we see a woman above a size 14 in magazines, in advertisements, or on the runway, she's a perfect hourglass shape.
"Think about the most famous plus-size models:  They have big busts and full hips, with snatched waists and thin arms and legs. Gorgeous–but also, newsflash! That is not how most plus-size women look. Hell, all you need to do is look around on the street to know that many of us are rounder in the 'wrong' places, with full faces and thicker limbs.  . . . How progressive is body positivity if we're affirming only one plus-size body type?"
Mason explains that, despite fluctuations in her size between 12 and 16, she is larger on top with large breasts and smaller hips. She cites Eloquii, Universal Standard, and Los Angeles-based Zelie for She as lines that design for various types.
This is not new, by any means. For instance, plus-size model and image consultant Catherine Schuller introduced a line on one of the home shopping channels some years ago, with styles identified as being appropriate for various body shapes. With few exceptions, plus-size clothing lines do not provide guidance to consumers as to what pieces will flatter which shapes.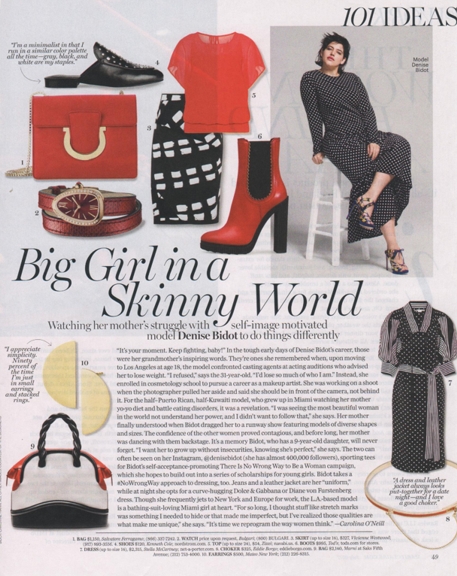 Look at the regular column "Big Girl in a Skinny World" in Marie Claire magazine. In the July 2017 issue, which features plus-size model Denise Bidot, the column spotlights for her a Vivienne Westwood skirt with a horizontal print (up to size 14), a Stella McCartney dress (up to size 14), and, a choker from Eddie Borgo. The choker has an interior diameter of 4.25 inches. None of these items will fit the majority of "big girls."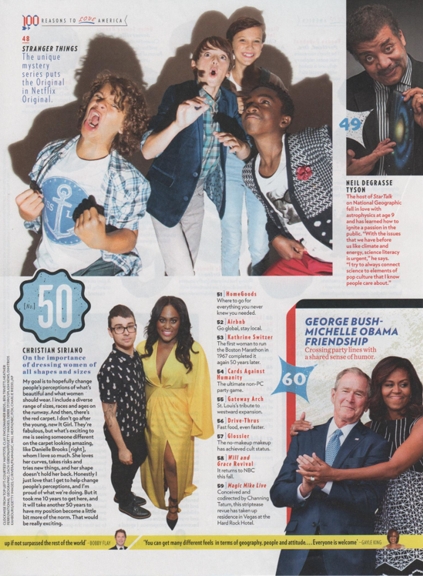 One option, for those who can afford it, is to go custom. Designer Christian Siriano is quoted in the July 3, 2017 issue of People: "My goal is to hopefully change people's perceptions of what's beautiful and what women should wear. I include a diverse range of sizes, races and ages on the runway. An then, there's the red carpet. I don't go after the young, new It Girl. They're fabulous, but what's exciting to me is seeing someone different on the carpet looking amazing, like Danielle Brooks. . .  Honestly I just love that I get to help change people's perceptions, and I'm proud of what we're doing. But it took me 10 years to get here, and it will take another 50 years to have my position become a little bit more of the norm. That would be really exciting."
I'm thrilled to see that some designers and retailers are once again attempting to serve the 67% of American women who wear a size 14 or above. Stay tuned.
Save
Save
Save