There's something special about a look when you can personalize it and make it uniquely your own. Whether professional wear suiting, bold graphic designs, military-inspired khaki, or pretty floral dresses are your cup of tea, a quick way to add pizzazz to your look is with a brooch. Stylists have been adding brooches to add interest to fashion photographs over the last several months, and this trend holds strong this spring.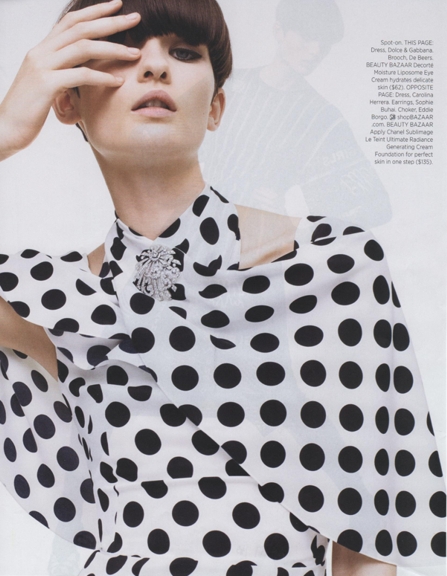 For instance, the February 2017 issue of Harper's Bazaar has a 10-page spread devoted to bold, graphic prints, and adorns four of the black and white looks with brooches. Above, a bold polka dot dress from Dolce & Gabbana serves as the backdrop for a fabulous De Beers Diamond spray brooch.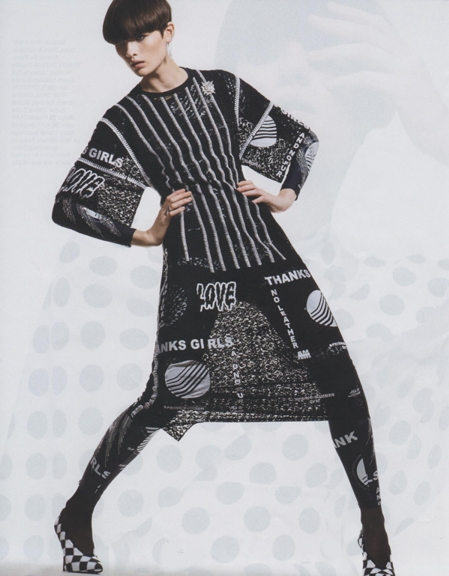 In the same issue, a "message" dress, top, leggings and shoes by Stella McCartney receive added edge from earrings and a Maltese cross style brooch from Lynn Ban.
The February 2017 issue of Marie Claire features a selection of two-tone metal brooches from Buccellati in a feature focusing on retro floral prints.
The January 2017 issue of Elle suggests that "Sparkly pins are more punk than prim when they veer off jackets and onto rocker tees." The brooches spotlighted in the piece vary in price from a message brooch in rhinestones from BAN.DO at $10 to a $22,700 flower clip from Van Cleef & Arpels.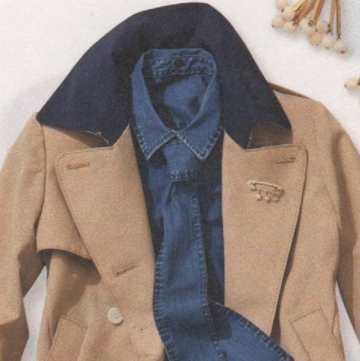 The April 2017 issue of Real Simple demonstrates how to wear a brooch on the lapel of a trench coat or jacket. In the photo above, a jacket from J. Crew is accented with a pin from White House Black Market.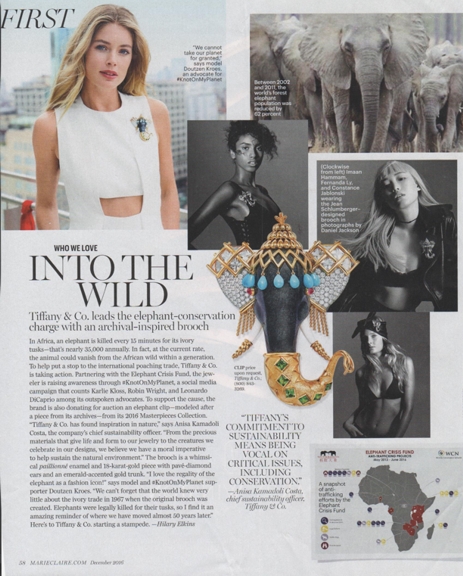 In the December 2016 issue of Marie Claire, models Doutzen Kroes, Imaan Hammam, Fernanda Ly and Constance Jablonski demonstrate a variety of ways to wear a spectacular elephant head brooch from Tiffany & Co. The brooch, based upon an archival Jean Schlumberger design, was re-issued by Tiffany & Co. in support of the Elephant Crisis Fund, which raises awareness of the plight of those magnificent animals killed for their ivory tusks.
The December 2016/January 2017 issue of Harper's Bazaar recommends in its selection of what to buy now, an antique brooch. Pictured is a lovely piece from Cartier, but all manner of exquisite budget-minded designs are readily available on eBay. Considering the extraordinary versatility and sheer delight of these lovely pieces of wearable art, whether fine or faux , I couldn't agree more.
Save
Save
Save