A pair of articles in the February 2017 issue of InStyle magazine spotlight the power of dressing purposefully. How one chooses to dress can send a message of inspiration, and can communicate a demand for respect.
In a thought-provoking article in the February 2017 issue of InStyle, Eric Wilson asks: "Can fashion be feminist? With their spring collections, designers clearly had power and politics on their minds as they created wardrobes for modern working women. As the world continues to change in unpredictable ways, however, that message of strength may be more important than ever."
Pictured in the 2/17 issue of InStyle, Kendall Jenner imagined as Rosie the Riveter, from campaigns from the Independent Journal Review and Rock the Vote, fall 2016.
Wilson writes that "we are entering a season in which clothing can play an unexpected role in how we communicate our viewpoints to the world. Wearing a pantsuit or a pussy-bow blouse suddenly becomes a political act, open to interpretation." He continues: "The cause of feminism, in particular, benefits when fashion embraces the imagery of strong women, much as Stella McCartney and Donatella Versace have done in their recent collections, because clothing is, in a way, a universal language. And it is becoming less of a stigma for smart women to talk about fashion or embrace feminine clothing in the workplace rather than dress like men to get ahead."
Tucker describes how designer Gaby Basora, the founder and creative director of Tucker, "often considers how specific items of clothing can be empowering, even if the sense of strength is only what we ascribe to it in our minds. 'Ultimately, fashion can be a way to express things about yourself that are more meaningful than just a blouse,' she says. 'It's fascinating how we create illusions.'" Basora, Wilson writes, "like to think about . . . a family friend who, as a successful educator with a taste for immaculate clothes, made a point of riding the bus to work every day so that young women might see her and begin to imagine having important jobs of their own."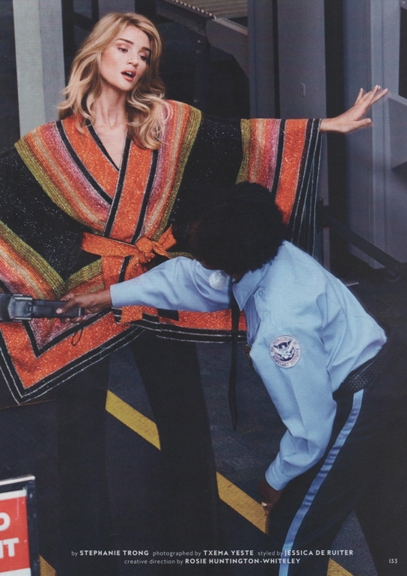 Illustration:  Rosie Huntington-Whiteley, pictured in the 2/17 issue of InStyle wearing Balmain.
The February 2017 issue of InStyle  also contains a profile of supermodel and style icon Rosie Huntington-Whiteley, calling her "The Chicest Lady at the Airport." Writer Stephanie Trong writes that Huntington-Whitely as "emerged as the foremost trendsetter" of "airport style" and quotes the model: "People probably think I'm overdressed for the airport . . . [but] that's just me–a great outfit is my armor. I feel confident and ready to face the world."
Consider how Huntington-Whiteley is an "influencer," someone whom others choose to emulate, just like the impeccably dressed educator on the bus.  Consider how fashion  can serve as armor, and how fashion can convey a message of strength — a message that commands respect.
Save
Save