I was going to write this month's post on quite a different fashion-focused topic, when an article in the November 17, 2016 edition of the  Los Angeles Times caught my eye.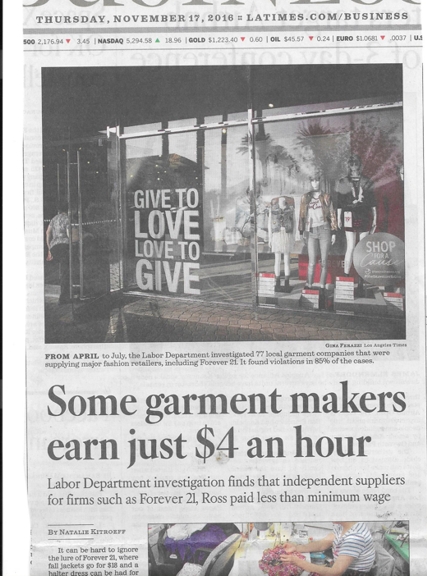 This year, the U.S. Labor Department investigated 77 local Los Angeles garment companies that were supplying some of the biggest clothing stores in the nation, writes reporter Natalie Kitroeff, and found that many of these factories pay workers much less than the state minimum wage. "Investigators uncovered labor violations in 85% of the cases, the department said, and found that the companies cheated workers out of $1.1 million." While even Nordstrom and Macy's had ties to garment makers that did not pay minimum wage, "the retailers with ties to companies that had the most offenses were Ross Dress for Less, Forever 21 and TJ Maxx. Workers were paid as little as $4 an hour, and they got $7 an hour on average–$3 less than the state minimum wage. . . ."
Although the garment companies and some manufacturers that act as intermediaries between the factories and the retailers were ordered to pay $1.3 million in lost wages and damages to workers, the retailers "avoid any repercussions for hiring factories that violate labor laws. The Labor Department can only penalize companies that directly employ workers." Keeping their distance from the factories by working with several layers of suppliers, the business model shields the retailers from liability.
Ruben Rosalez, a regional administrator with the Labor Department, said that the problem is "that retailers have not increased the rates they pay manufacturers in years. 'The retailers are setting the prices. They're saying, "Make this shirt for this amount," but it's the workers at the end of the chain that are getting screwed,' Rosalez said."
According to Rosalez, retailers "hire monitors to make sure their suppliers abroad are following the law but don't do the same level of inspection in the U.S. . . . The stores 'want to be able to meet demand on a quick basis. It's cheaper to do it here as long as no one is looking,' he said."
Spokespersons for Ross Dress for Less and Forever 21 both responded to the reporter by email that they take these labor issues "very seriously" and are cooperating, as Ross puts it, "to make sure that suppliers understand the law." Representatives of TJ Maxx did not return a request for comment. Kitroeff reports, "It is not clear whether the retailers are still doing business with clothes makers that underpay workers."
Next time you consider buying that $18 jacket or $9 dress, consider how it's possible for something new to be sold that cheaply. There's a high price for that low price.
All is not lost. If you're on a strict budget or enjoy scouting for bargains, shop online instead and head to eBay, where you can find all manner of brand new items with their original tags, purchases made that have never been used, from vendors all across the United States (yours truly included).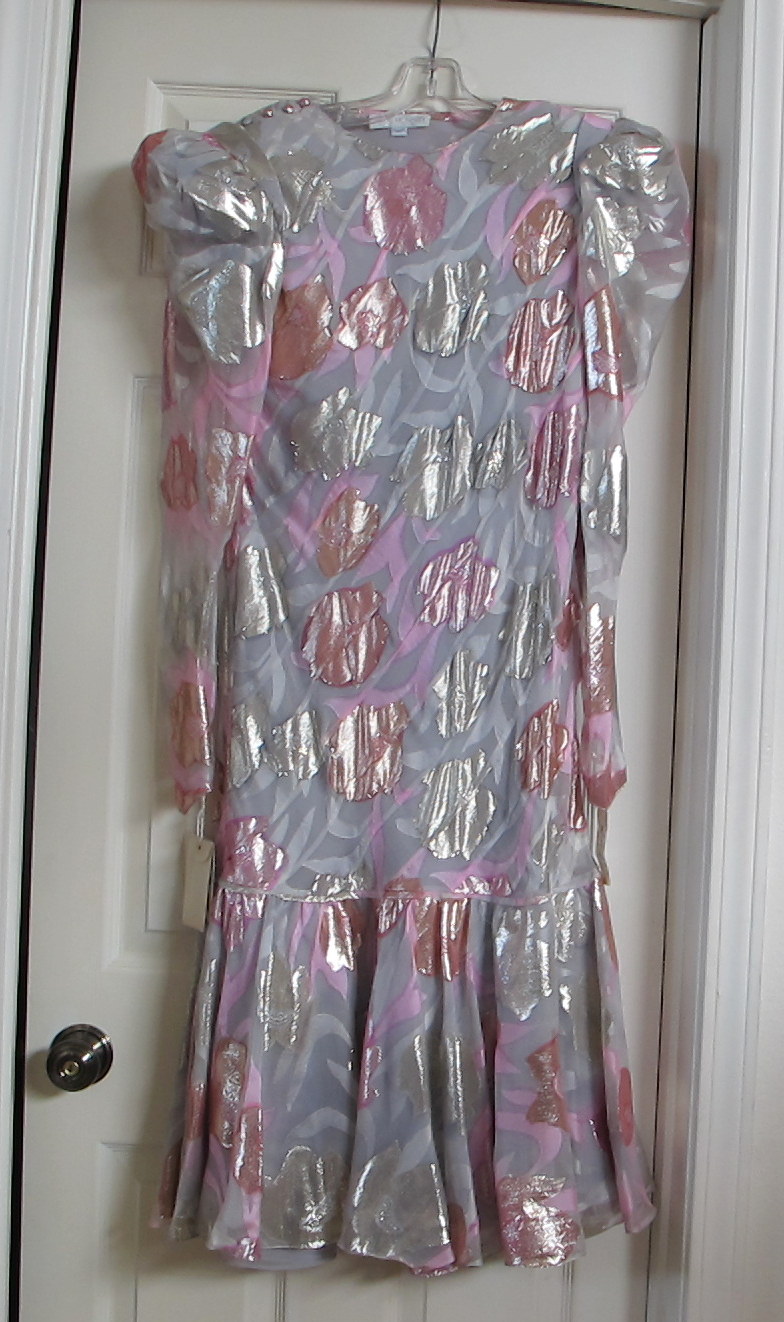 For instance, among the big trends of this season are 1980s styles, padded shoulders included, along with floral prints, ruffles and metallics. I have a vintage $1,215 Judy Hornby Couture pink and silver metallic silk dress with a ruffled hem, purchased at Marshall Field's, brand new with tags, listed for under $200.
You can find the dress at http://www.ebay.com/itm/JUDY-HORNBY-COUTURE-1215-Pink-Silver-Foiled-Floral-Silk-Dress-80s-NWT-38-B-/171021327963?ssPageName=STRK:MESE:IT
I would love for the dress to be worn and enjoyed this holiday season.
Save
Save