As any image consultant worth her salt will tell you, your style should reflect your personality and taste — the authentic you.  As fashion pushes out the next trend and the next, urging you to try and buy, it can be fun to expand your horizons and see what works for you. Ultimately, however, the style needs to suit you. There is never one cool or right way to dress.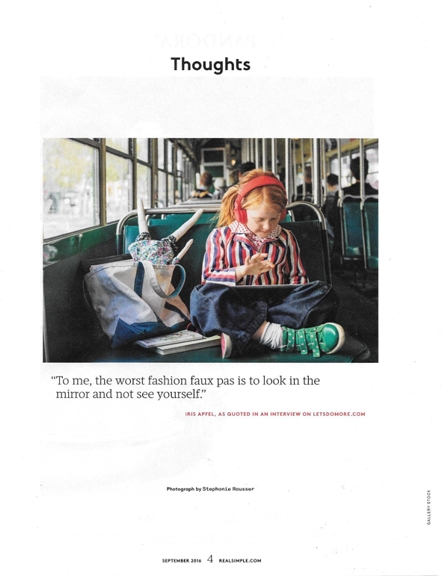 Along that line of thought, the media has been full of examples that exemplify the call to authentic style. Consider this wonderful thought from fashion icon Iris Apfel, published in the September 2016 issue of Real Simple:  "To me, the worst fashion faux pas is to look in the mirror and not see yourself."  The charming photograph of the little girl in her mismatched prints is by Stephanie Rousser.
The August 12, 2016 issue of the Los Angeles Times contains an article by Adam Tschorn:  "It's what Adele wears to an Adele concert: Not the type to mull over myriad choices each show, she wears one Burberry design." Literally, Adele, wears one custom-designed dress (of which she owns 10 copies). The dress is a "floor-length gown that nips in at the waist, has a crew neck, three-quarter-length sleeves and a multicolored floral sequin pattern that dazzles and sparkles like mad under the lights." She finishes the look with comfortable flats, not high heels.  This is the epitome of uniform dressing. Every detail has no doubt been considered — what neckline is comfortable, what sleeve-length feels good, and what is most flattering. Having found the perfect dress, Adele sticks with it.
Authenticity too sometimes means that not everyone is going to approve of your fashion choices. In the September 2016 issue of Glamour, associate fashion writer Lauren Chan defends her choice of a dress that, once posted, elicited comments about how unflattering it is. Chan responds: "Here's where I call bullshit: Unflattering is just a code word for 'not slimming,' and shocking as it may seem, this size 12 woman doesn't choose clothes for the sole purpose of appearing elongated, slimmer, or sucked in. "
Chan continues:  "Curves are all well and good, these commenters seemed to be saying, as long as you wear Spanx and head-to-toe black and stay away from stripes (never mind stripes and ruffles).  In other words, while we're embracing women of all sizes as never before, we've yet to accept that successful dressing doesn't mean minimizing our bodies."
Chan's conclusion is worth contemplating: "So know this: If you hate what I'm wearing, I can take it! But I like my curves, and I don't want to 'flatter' them away."
When you look in the mirror, see yourself. Embrace the authentic you.
Save