The vast majority of us have faces with less than perfectly symmetrical features. This is not something that should by any means diminish one's self-esteem. Look at the photos of individuals considered to be among the most beautiful, and you will notice slight discrepancies between the two sides of their faces. One eyebrow may be slightly higher or thicker; one eye slightly larger; one nostril bigger, one ear slightly higher than the other, and so on. These features add immeasurably to the appeal of those faces.
One aspect of asymmetry that isn't usually on display for women is the hairline. Bangs and hairstyles that dip over the top of the face hide the hairline. When all the hair is pulled back into a ballerina-style bun, or, with the "half-up topknot" style currently in vogue, the hairline comes into prominent focus, sometime with surprising results. Needless to say, those who would look to analyze a face shapes with an unusual hairline face a conundrum.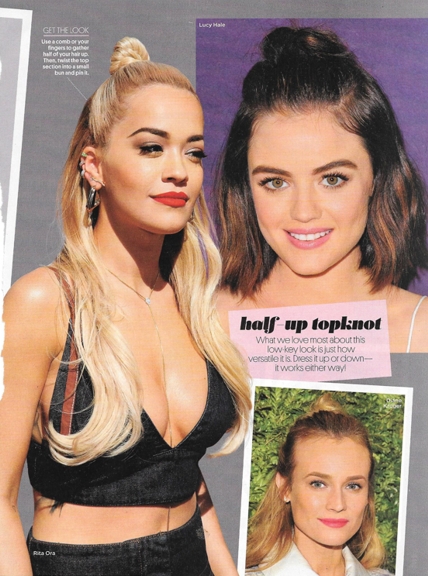 I was struck by this photo of actresses Lucy Hale and Diane Kruger, along with the singer Rita Ora, featured in the June 2016 issue of Style Watch. While Ora's hairline is quite straight and symmetrical, the hairlines of Hale and Kruger have all manner of darling quirks.
I remember attending my first AICI (Association of Image Consultants International) conference, meeting an image consultant who showed me the extraordinarily quirky hairline she hid under a clever asymmetrical hairstyle. She worked with her cowlicks and the dips and peaks of her hairline to create something quite fresh and charming.
When one is blessed with a particularly haphazard hairline, there are two ways to proceed. The usual approach  is to disguise the hairline with a well-chosen hairstyle that works with the quirks. The second approach exposes the hairline and creates a bold statement — love me, love my quirky hairline.
Save