I rarely use this category in my blog, not from any desire to be polite, but because fashion mistakes, or the results of experimentation or outright playfulness in choosing clothing and accessories, don't usually demand such strong condemnation.
However, with the arrival of the May 9, 2016 issue of People magazine, I am compelled to bring out the smarmiest of my blog categories in viewing a photo of a favorite actress, Cate Blanchett, wearing a fall 2016 Louis Vuitton design. In her defense, she was attending an exhibition put on by the designer, but still…… quelle horreur!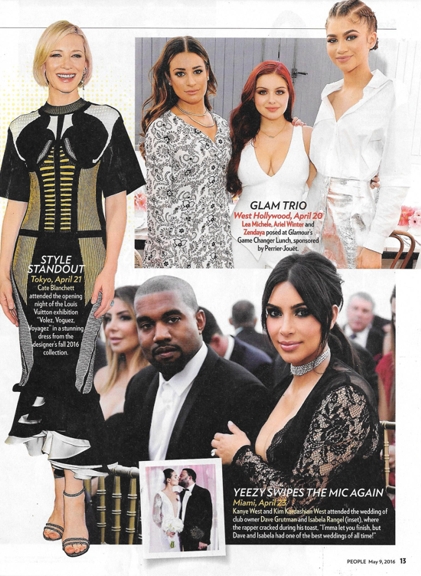 Here's a perfect example of a dress wearing the woman. The design details that sit on her chest like overly high breast cups are as large as her head, and her fair coloring is completely lost competing against the graphic black, white and gold design. The sleeves make her look boxy and wide. The flounce at the bottom bears no relation to the rest of the design. On Project Runway, no doubt, the designer would be told that there are "a few too many ideas" in one garment.
Fortunately, Blanchett appears just three pages later in the center of a spread spotlighting fantastic creatures embroidered into high-fashion gowns. The graceful embellishments and soft colors of her Gucci gown allow her to be seen. The spotlight is back on the actress, where it belongs. Think of the photo as the perfect palate cleanser generously supplied by People magazine.
Blanchett is also featured in an Atelier Versace gown and a Tiffany & Co. necklace in the June 2016 issue of InStyle. Notice how the gown shows off her lovely figure, looking at least a couple of sizes smaller than she appears in the Louis Vuitton dress. Why, oh why would a design house choose to allow a fan of their to appear in such an unflattering dress?