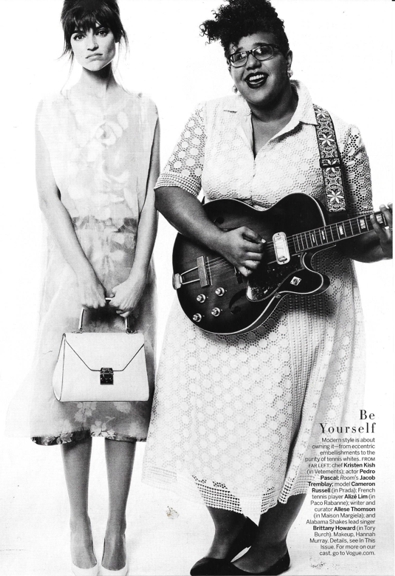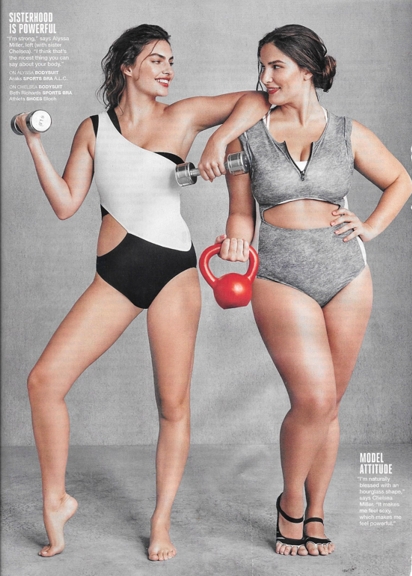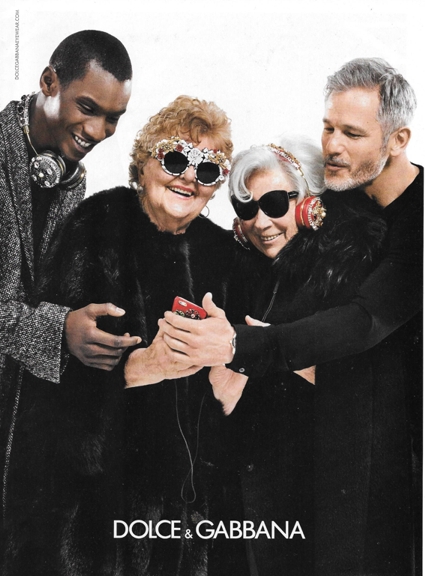 When magazines as devoted to the ideals of beauty and fitness as Vogue and Self provide the same self-affirming positive message, it's the ideal time to take the message to heart. This is a new age of body positivity. 
The January 2016 issue of Vogue urges readers:  "Be Yourself:  Welcome to the revolution:  As fashion, following the world at large, embraces a new era of inclusion and diversity and FREEDOM," Vogue gathered "the cream of the CREATIVE CROP–to showcase the season's most EXPRESSIVE pieces:  real clothes that reflect real life."
Above, writer and curator Allese Thomson and Alabama Shakes lead singer Brittany Howard model clothing from Maison Margiela and Tory Burch, respectively, in the January 2016 issue of Vogue. This is a very different Vogue magazine from the one that, not so many years ago, told Oprah she needed to lose 20-plus pounds in order to appear on the publication's cover, despite her extraordinary and long-standing achievements and popularity.
In an article by Meredith Bryan in the January 2016 issue of Self, the magazine focuses upon "What Women Really Think About Their Bodies" and asks, "In the social media age, is our body image better than it used to be?" Bryan writes:  "After decades of talk about bold image, women's body positivity looks to be at an all-time high. Behold a new crop of female icons like Beyonce, Mindy Kaling, Lena Dunham, Ronda Rousey, Amy Schumer and Serena Williams, whose bodies are as gloriously diverse as their pop-culture firepower."
The January 2016 issue of Self  features models, and sisters, Alyssa and Chelsea Miller, who "look a lot alike except for one major difference–about five dress sizes." Chelsea wears a size 14, while her sister wears a size 4. Alyssa reports of experiencing pressure early in her career to lose20 pounds in order to be a size 0, but she stood her ground. Some 12 years later, she relates that her resolve did not hurt her career at all and indeed, that seeing photos of her sister Chelsea on Alyssa's Instagram, Alyssa's agency, IMG, signed Chelsea to her own contract as a plus size model. 
Yet Bryan's article in Self about body positivity is far from entirely positive. I did not see statistics in the article detailing the ages and other demographics of the "more than 3,100" women surveyed by Self, but the results were disheartening (not surprisingly so for readers of a fitness publication, some 70 percent of whom "say they compare themselves to others on social media either constantly or occasionally"). Among other survey results:  "a whopping 80 percent of us remain unsatisfied with the number on the scale–and 57 percent think about it 'constantly.'"
Bryan continues, "Perhaps worse still, 85 percent of women believe they should feel more body-positive than they do. meaning, not only do we hate on our bodies, but we also hate on ourselves for hating on them." I prefer a more positive view of this statistic:  perhaps the self-affirming message is starting to sink in. Indeed, Bryan concludes, "As we choose how to engage with technology, our online lives have the potential to remind us of everything we can do, rather than everything we'll never be." Bryan ends her article with a quote from Cassey Ho, creator of YouTube channel Blogilates:  "I think the whole body-image positivity movement is very strong right now. The next step is to just do what you do, and have the body you have, and not even feel the need to mention it. We need to focus on our brains, our character, our knowledge and emotion–on what we're able to contribute to the world."
Consider the latest ad campaign from Dolce & Gabbana, featuring individuals of various shapes and sizes. There is nothing but love for all the individuals in the ads.
In the December 2015 issue of Allure, actress Claire Danes expands upon prior comments to People magazine that she and her friend Lena Dunham were "criticized for having different body types–I was too skinny, and she was too big." Danes continues:  "It's just so ingrained in us, the idea that we should take up the right amount of space, literally and figuratively."
In the October 19, 2015 issue of People, Meryl Streep is quoted on the advice she would give to her 18-year-old self, to Time Out London:  "Don't waste so much time thinking about how much you weigh. There is no more mind-numbing, boring, idiotic, self-destructive diversion from the fun of living."
Don a poncho or fling a shawl over your shoulders and claim your space. Be all the fabulous person you are. Embrace wholeheartedly the fun of living. Happy New Year!