Being an outlier when it comes to beauty, as someone far too short and wide to meet the standards of classic loveliness, I have always taken an expansive view of what constitutes attractiveness. The world of fashion has gradually gone farther and farther down the path of embracing the quirky, from the French concept of jolie laide ("pretty/ugly") to such features as gaps between front teeth and outsize feet.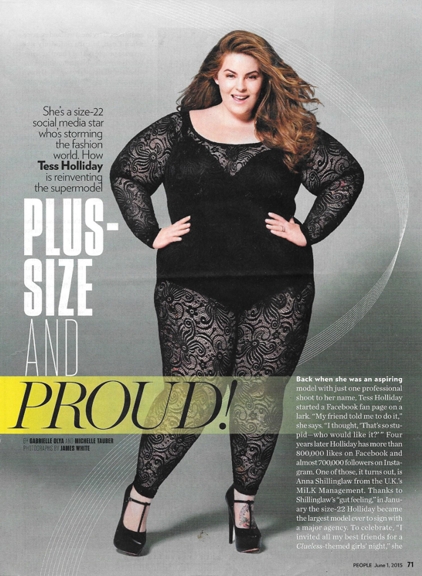 The June 1, 2015 issue of People magazine ("The 2015 Body Issue") announces on its cover "The World's First Size 22 Supermodel!" and adds:  "From Bullied Teen to Plus-Size Star:  Tess Holliday on her traumatic childhood and inspiring journey: 'You can be beautiful regardless of your size.'"
With reportedly over 800,000 likes on Facebook and almost 700,000 followers on Instagram, Holliday caught the eye of the U.K.'s MILK Management and became, at size 22, "the largest model ever to sign with a major agency." People continues:  "At 5'5″ and 280 lbs., the heavily tattooed Holliday is a pinup for a brand-new era: body-positive, outspoken, social-media-savvy and no one's idea of a cookie-cutter mannequin." Noting other plus-size models currently making waves, including Candice Huffine, Denise Bidot, Ashley Graham, and Robyn Lawley, the magazine poses the question: "Maybe the fashion industry has finally realized that women wearing size 14 and up account for 67 percent of the American population?"
Without comment, the same issue of People includes a one-page spread on the "Not-So-Real Housewives" of Orange County, who "dish about their plastic surgery and Botox." Not a mention of liposuction appears in the article although the most senior of the five women reports having had a tummy tuck more than 15 years ago. Three of the five women in the article admit to having breast augmentation, three have had nose jobs, two have had "chin jobs," one tried a lip injection, and all five have had Botox injections. 51-year-old Shannon Beador comments that she wants her three daughters (ages 10-13) "to grow up loving their bodies. I don't want them to think that they're going to have to change anything."
Overly Photoshopped images seem more and more passé as consumers protest when advertisers go too far in correcting perceived flaws or in striving for an unnatural level of perfection. Has there finally been a sea change in appreciating the beauty in every individual, whatever her size?