"Necklaces should always be chosen with the neckline you'll be wearing in mind. " Thus I concluded my blog post in September 2013, " Necklines & Necklaces:  The Issue When Everything Is the Same Perfect Length."
A spate of recent examples in the fashion press of necklaces not chosen to coordinate with necklines prompts my post today.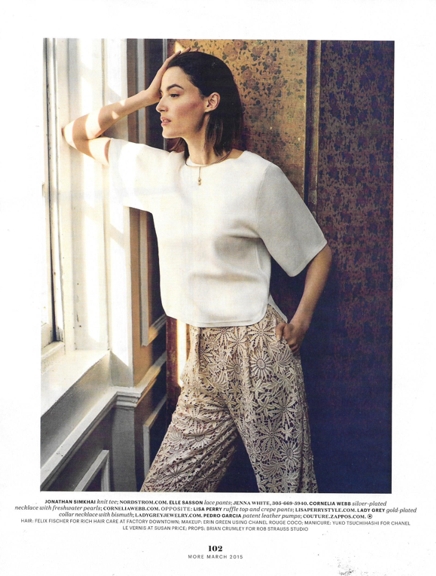 A pair of examples derive from the same fashion spread in the March 2015 issue of More magazine. The first example pairs a thin rigid collar necklace with a drop, visually creating a Y-shape, with an overly large knit tee shirt that looks to be puckering rather than lying flat. The necklace hangs awkwardly over the neckline of the tee, further drawing attention to the problematic neckline. The top was not chosen with consideration for the necklace or the model. In my opinion, the necklace is also too delicate a design for the model, who is tall and has strong features.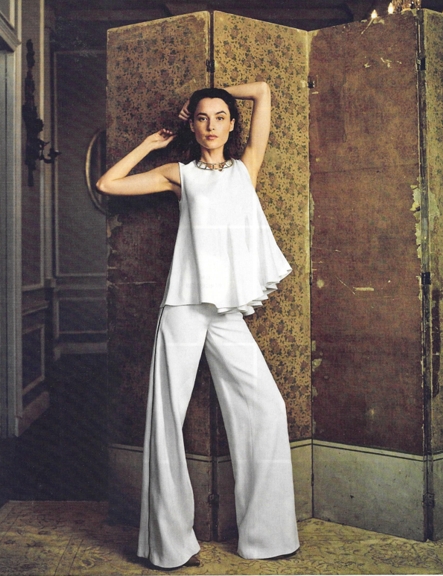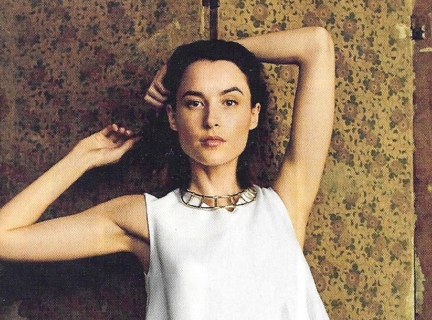 A substantial necklace more flattering to the model appears in the second photo, but again here, the neckline of the ensemble clashes with the necklace. The necklace, with its rigid chunky lattice design, is placed over the vee shape of the neckline, creating a jarring visual effect. The lovely flowing lines of the ensemble would be much better served with a long pendant necklace, which would extend the vee of the neckline.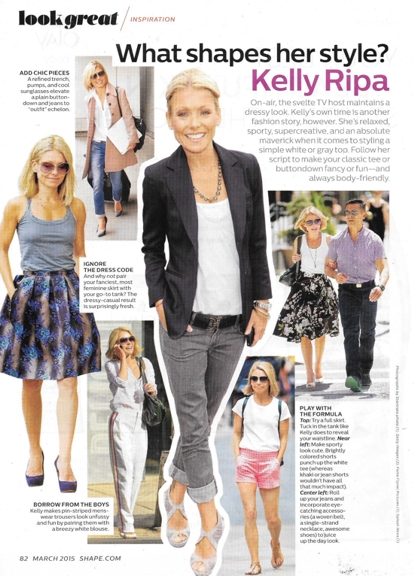 My final example is modeled by actress Kelly Ripa, whose necklace dips to meet the neckline of her camisole in this photo from the March 2015 issue of Shape magazine. The necklace is just about at the sweet spot of her first balance point, as is her neckline. The result: a visual clash. The necklace looks droopy, not an adjective that any woman of a certain age wants to embrace. Shortening the necklace a couple of inches, or choosing a different necklace at a shorter collar length, would make all the difference.