In the March 2015 issue of Lucky magazine, a reader asks:  "How can I get button-downs to fit correctly? If you don't know what I mean, ask any woman with large breasts."
The editor who fielded the reader's question responded by consulting with another editor at the publication. Their response: "If a button-down's gaping or straining in any way, you're wearing it too tight. This doesn't mean you have to go with a shapeless men's shirt–it's a button-down moment, so there are many cuts right now. " So far, so good.
The recommendation continues: "There are purposely slouchy, rounded-back ones, and T by Alexander Wang makes them slim and straight, rather than hugging the body."
Here's the only T by Alexander Wang button-front shirt in the designer's current on-line collection. It is cropped, and available on the designer's web site only up to size 6 (the model pictured is 5'11" and a size 2). The cropped and unfitted top is decidedly not a look for a woman with large breasts — assuming a size 6 would accommodate her chest, the shirt will stick out in front in a most unattractive manner.
The advice continues: "Then there's long in back, short in front, which is just–a thing now. If ever there were a season to find your ultimate shape, it's now."  No example or picture of this style is provided, but the cropped shape above seems to be a related style.
The editors' response does include an illustration, a picture of a model wearing a plaid button-front shirt over a white tee (and under an army jacket). As lovely as she is, a sample-size model is not one who can provide perspective on the issues unique to large breasts.  In the picture the shirt is buttoned only at the top button and does not demonstrate correct fit at all. This provides no solution to the reader's issue.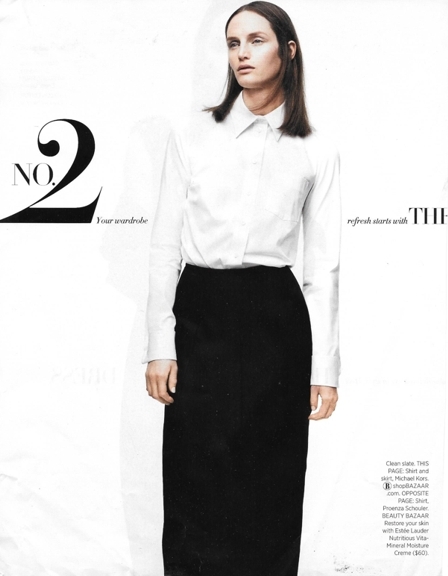 The type of blouse styling to which the reader more likely refers is exemplified by the classic front-button design Michael Kors white shirt pictured above in the March 2015 issue of Harper's Bazaar.  The shirt is pictured on a model with long-waisted proportions, tall and slender with a modest bust.
The issue with button-front shirts is that they have a strong propensity to gap when buttoned over large breasts.  The reason for this is a flat garment design is not meant to accommodate the dimensionality of full breasts.  Going up a size or two (or three) may well not resolve this issue.
One important factor in finding a shirt or blouse that does not gap is selecting a design that has buttons spaced so that the garment buttons at the biggest part of the breasts, in line with the nipples. This placement will vary from woman to woman — this is a matter of an individual's height and body proportions.
The necessary button placement to avoid a gap can be difficult if not impossible to find.  The larger the spacing between the buttons, the more likely the garment will gap, as there is more opportunity for it to pull while being worn. The more closely spaced the buttons, the more likely a gap will be minimized. However, there is a secondary issue that arises with a garment with front buttons, especially with closely spaced buttons:  the buttons themselves bring attention to the front seam and, with that, to the wearer's chest.  One mitigating suggestion I might add:  Blouses with soft bows attached and scarves draped over the front of a blouse or shirt can help mask the issue.
If you are busty and want to wear a button-front shirt buttoned, the shirt must be tailored to your shape with darts and seams that accommodate your shapeliness. A straight cut, like that of the Michael Kors shirt, will probably require significant tailoring to make it work for you.
This is one time that engaging a tailor to custom-make a garment may be the best, albeit not inexpensive, solution if you have a large chest and simply must have a classic button-front shirt.