Every day, you need to dress  in garments that suit your activities and lifestyle. Whether you have a walk-in closet the size of a bedroom, or a closet shoe-horned into a tiny space, you need to be able to pull together from your wardrobe an ensemble that meets your practical needs and  pleases your sense of aesthetics too. Irrespective of whether you love to start each day putting together an ensemble that suits your mood, or whether your career dictates the parameters of what is acceptable in the workplace, you need to determine what works for you — the practical side of dressing.
It should come as no surprise that many designers default to a certain look — their personal style uniform, in essence. Designers like Vera Wang and Mary Katrantzou design colorful pieces but themselves dress in black;  designers Michael Kors and Roberto Cavalli dress in jeans, tee shirts and black blazers.
Even if you enjoy piecing together a creative look, there are occasions when a tight schedule dictates that you have no early morning fashion decisions to make.
One image consultants' trick is to keep a list or spreadsheet detailing favorite ensembles from head to toe; if you can add a photo, so much the better, though the photo is not necessary.
In the March 2015 issue of Glamour, four of the magazine's editors share their personal highlights of the spring shows during Fashion Week in New York, Paris, London and Milan. Each reveals her personal "show uniform":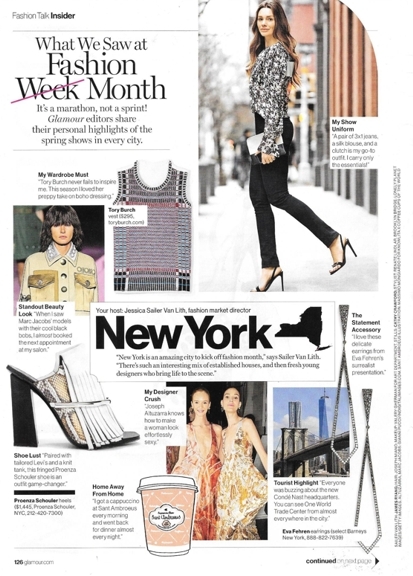 New York, "A pair of 3×1 jeans, a silk blouse, and a clutch"
Paris: "a crisp button-down shirt layered up with my signature silver jewelry, a pencil skirt, and heels"
London:  "I live in dresses during fashion month. The less I have to pack, the better. A structured leather belt helps pull it all together.
Milan:  "I start with a perfect white shirt, then pair it with a full printed skirt and heels that don't quite match."
These are uniforms for women who know they are going to be photographed and who are circulating among people for whom fashion is their life; they need to look terrific, and yet they can find a streamlined way to dress.
A few pages farther back in the issue, freelance writer Emily Holt contributed a piece entitled "Yes, I Will Be Caught Wearing the Same Thing Every Day." Glamour elaborates:  "Some of the world's chicest women walk around in essentially the same look year in and year out. Emily Holt makes a case for the art of uniform dressing."
Holt reveals her personal habit of wearing pants with a sweater and sandals. "The pant-sweater-sandal combination emerged during college in Los Angeles, where that laid-back attire was appropriate year-round." Now living in San Francisco, she tweaks her wardrobe seasonally. "But while components change, the refrain remains: pants, sweater, sandals, repeat. And why not? It works." Her look can take her comfortably–ah, there's a key word–"from a breakfast meeting to a visit with a designer friend in her studio to a work dinner and even an after-hours drink. (Occasionally, I'll swap the flat for a higher heel.)"
The article includes photos of British Vogue fashion editor Sarah Harris, "consistently chic in crisp shirts, ripped jeans, and standout accessories" and J. Crew's Jenna Lyons, who "always pulls everything together with an oversize, tailored jacket atop her shoulders."
Holt provides tips on how to find one's personal style uniform:
Look at how you dressed when you were a kid. What you wore–or refused to wear–before you knew how to spell runway says a lot about your true sartorial nature.
Forget trends. Designer Carolina Herrera tells Holt "It's important to know what looks good on you, not what's fashionable." Herrera's signature white shirt is "something she's been wearing since she was required to don one as a child in Venezuela as part of her school uniform. 'Eventually I became accustomed to it,' says the designer.'"
Embrace being different. Jewelry designer Irene Neuwirth "tends to wear colorful, patterned, feminine frocks that cinch at the waist and fall to her ankles"; fashion editor Sarah Harris is a devotee of androgynous jeans and blazers.
Think of it as branding. "The best part of a uniform is that you consistently look like you," citing Coco Chanel, Frida Kahlo, Audrey Hepburn, Celine designer Phoebe Philo, J. Crew president Jenna Lyons, Ellen DeGeneres, and First Lady Michelle Obama as examples.
If all else fails, jeans. "There's a reason they've been America's uniform for more than 100 years. But if they're your daily fare, Harris has a critical warning: 'Jeans can look lazy, so you have to amp up the accessories.' Which means chic, dressier elements are a must. Harris goes for blazers by Stella McCartney, pumps with a heel, a men's Rolex, and a pair of diamond hoops." Harris explains: "It elevates the look and helps people think I made an effort. . . . It's not that I don't love other clothes. It's just that in jeans, I feel like me."
Crisp button-front shirts and jeans appear to be popular choices for personal style uniforms. You'll find neither of these items in my wardrobe, however. Black slacks provide the common element in most of my looks. They are less informal than jeans and much easier to dress up. And shirts that button are a no-no for busty women (more on this in an upcoming post). I prefer a silk or cotton knit tank or tee, topped with a lightweight cardigan sweater or jacket. The third layer adds polish and also allows for adjustment of layers as the temperature dictates.
Think about what pieces work best for you. Learn what colors are most flattering to you, and wear them near your face. Add jewelry and accessories that are comfortable and, most important, make you smile. Feeling comfortable in your choices, you can relax and "consistently look like you."