The February 2015 issue of Lucky magazine, amid a display of fashions that unmistakably target a younger demographic than the readers of this blog, contains a piece entitled "Stylist Confidential:  Make Anything Look More Expensive." Drawing upon the expertise of four top stylists, the magazine highlights "cost-saving fashion tricks" that elevate the perception of one's personal style.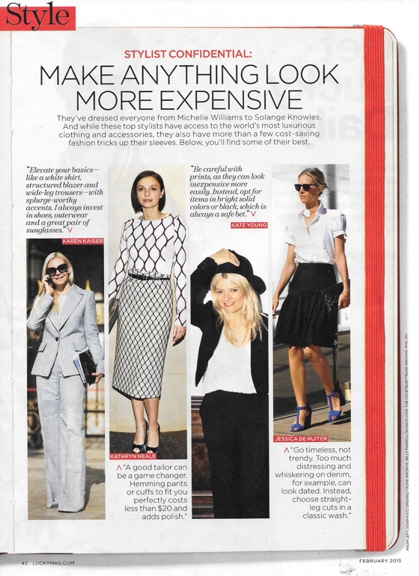 From Kate Young: "Be careful with prints, as they can look inexpensive more easily. Instead, opt for items in bright solid colors or black, which is always a safe bet." Not only can prints look expensive, they tend to be memorable and can be a look you tire of after multiple wearings. I would amend Young's advice to suggest also generally avoiding bright solid colors, unless you know that they flatter your coloring. Generally, complex and subtle colors are more expensive to produce than brights and have nuances and shading that is more flattering to most complexions.
From Kathryn Neale:  "A good tailor can be a game changer. Hemming pants or cuffs to fit you perfectly costs less than $20 and adds polish."  Unfortunately, the photo of Neale shows her in a skirt, not pants, so there is no visual representation of her tip. Image consultants, like stylists, will tell you that proper tailoring of your garments is the single most important way to upgrade your look. Good tailoring is worth every dollar you spend.
From Karen Kaiser:  "Elevate your basics–like a white shirt, structured blazer and wide-leg trousers–with splurge-worthy accents. I always invest in shoes, outerwear and a great pair of sunglasses." She is wearing wonderful sunglasses, but her shoes are hidden by ground-dragging pants that might benefit from hemming. Since the point of the exercise was to provide "cost-saving fashion tricks," "investing in" expensive shoes seems beyond the intended scope of the article. And, of course, there's the issue that shoes must be kept in perfect condition, which can be expensive, as nothing makes an ensemble look more unkempt more than poorly maintained shoes.
From Jessica De Ruiter:  "Go timeless, not trendy." Great advice, if you are able to sort out what is timeless and what is trendy. I would characterize the short-sleeve blouse she wears as trendy, although the skirt is classic. Pumps would be much more timeless than bright blue T-strap open-toe wedge shoes. I would have liked to see De Ruiter wearing what she considers a timeless ensemble.
The take-away from all this advice:  Buy classic styles in flattering solid colors or black, and have them tailored to fit. Know the style rules, and then feel free to break them to express your own personal style. Having your own unique personal style is priceless.