One of the best tips for selecting clothing that will genuinely flatter you has to do with your face — or more precisely, with the size of your facial features. If you are blessed with huge eyes and luscious lips, you  can wear clothing with larger scale detail without that detail distracting from your face. If, like most of us, your features are small to average in size, you are likely to find that smaller detail on your garments will be more attractive on you.
Case in point:  Actress Rose Byrne appearing on the cover of the November 2014 issue of Lucky magazine. She is wearing a gorgeous jumpsuit from the Roland Mouret Resort 2015 collection.  The jumpsuit is black with thick white edging at the bustline that crosses and becomes the straps of a halter-style neckline.
While the jumpsuit is beautiful, and the actress even more so, the detail of the wide white straps distracts from Byrne's lovely face, even though her eyebrows and eyeliner are dark and dramatic in the styling. With her slender frame and the dark body of the jumpsuit, what the eye notices first are the thick white straps and, correspondingly, her bare shoulders.
I came across two examples of similar designs, with straps of smaller scale, that might be more flattering on Byrne. The first is a David Koma dress modeled by actress Gabriella Wilde in the March 2014 issue of InStyle. The garment has the same style of white straps that crisscross and become the halter-style neckline, but they are narrower and therefore significantly less distracting. You see the woman, not the dress.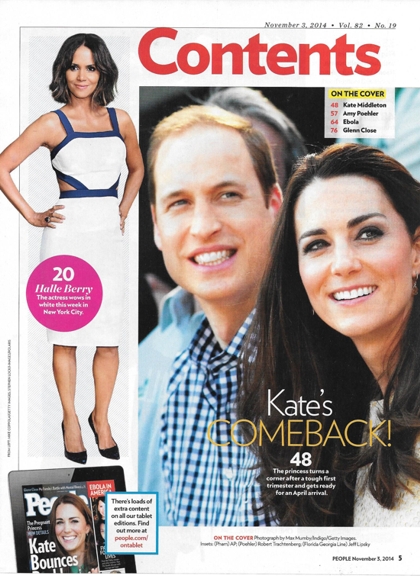 Another example of the effect of straps, this in a different style, reversing the dark and light portions of the garment and with a square neckline, is a dress by Michael Kors pictured on actress Halle Berry in the November 3, 2014 issue of People. The thinner straps, while still providing a dramatic accent to the dress, do not distract from Berry's beautiful face.
Incidentally, these principles apply to everyone, irrespective of body size or shape, and apply to all styles of clothing, from demure to dramatic. Never let the dress wear you.