Jewelry purchase decisions encompass a wealth of factors, including:
For what occasions is the jewelry to be worn (spanning the range from daily wear to gala occasions).
With what apparel will it be worn (considering the style of the clothing and its design details).
What styles of jewelry are most flattering to the wearer ( considering such factors as scale and color).
What styles suit the personality of the wearer (from classic to singularly quirky).
Quite beyond all those factors is another consideration:  What makes sense as a fashion investment. Rare is the individual who does not need to be mindful of her budget. As with most purchases, what is cheapest is not synonymous with what provides the best value for one's money.
What is of-the-moment trendy — immediately recognizable designs that have achieved cult status and seem ubiquitous for a season or two in the fashion press – will inevitably look tired and dated soon enough. If you want to wear one huge single earring because the fashion editors have embraced that trend right now, that's fine, but rather than shelling out significant dollars for a single piece, consider purchasing a pair of identical huge earrings that either may be wearable as a set or possibly may be adaptable into a fresh look by a clever jeweler when the trend has finished its course.
What is incomprehensible to me is the promotion of inexpensive jewelry designs that riff off current trends but don't merit cult status, when the promotion is directed to women of a certain age who have financial wherewithal. The September 2014 issue of More magazine is rife with this type of promotion.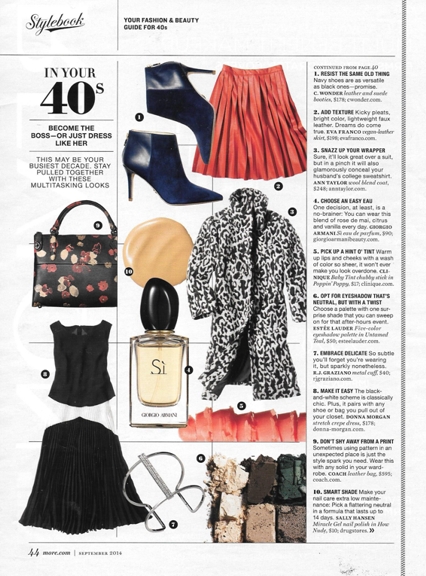 In your 40s, advises the editors, "become the boss–or just dress like her." As to jewelry, "Embrace delicate," urges the magazine. The jewelry selected to wear with the pulled together "multitasking looks" is a $40 metal cuff accented with crystals. The wide cutout style requires a wide expanse of arm, and would not work well with long-sleeved apparel such as the print wool-blend coat pictured. The missed opportunity: A lovely slender bracelet with a tasteful, daytime-appropriate sprinkle of pave diamonds on genuine gold or silver. That's something the boss might actually wear.
In your 50s, "dress to please yourself" suggest the editors, adding "You've earned the right to wear whatever feels best." The jewelry selected:  An attractive but uncomfortable to wear square bracelet that has a modest $225 price tag.
In your 60s, "break with tradition:  stop sticking to safe (yes, you) and show the world you're full of surprises." As to jewelry, "update your pearls" suggest the editors — excellent advice in this season of extraordinary designs that incorporate pearls. The first of two recommendations is a $588 necklace of brass, crystal and glass pearls in an eye-catching design from Lulu Frost that merits consideration.
The second of two recommendations is something entirely off the mark:  a $28 pair of earrings incorrectly described as "12k gold-plated brass and pearl studs." The earrings do not contain pearls — the pearls are faux, as one might expect from the price. The man-made pearl-like orbs are set on top of square backings. There is nothing whatsoever surprising about this design.
Why is a magazine that targets women of means promoting a $28 pair of faux-pearl earrings? A pair of freshwater cultured pearl stud earrings can be had for under $12 on Amazon.com.
Does anyone aspire to a jewelry wardrobe of inexpensive gold-plated — or worse, gold-tone metal — designs with faux gems and nothing-special style? Dress like the boss. Dress to please yourself. And show the world you're full of surprises. Don't settle.
What's in your jewelry box?