The fall season presents an opportunity for an otherwise stylish woman to take on the appearance of a little girl dressed up in her mother's clothes. The issue: designers and editors pushing oversized apparel that it too large or too long and swamps the figure of the woman wearing it.
This coat pictured in the July 2014 issue of Elle magazine creates the look in part because of the enormous lapels on the coat. Image consultants will tell you that details such as the size of lapels, buttons and trims should be proportionate to the size of the wearer's features. The delicate features of the model are not flattered by the huge collar. The chunky shoes do nothing to elevate her look. The coat is from COS.
The March 2014 issue of Elle styles a model in a silk tie-neck blouse and suspenders with trousers that pool on the floor. The blouse and trousers are from Michael Kors; the suspenders, from Star Struck Vintage Clothing. The bear in the photo wears a Chanel hat.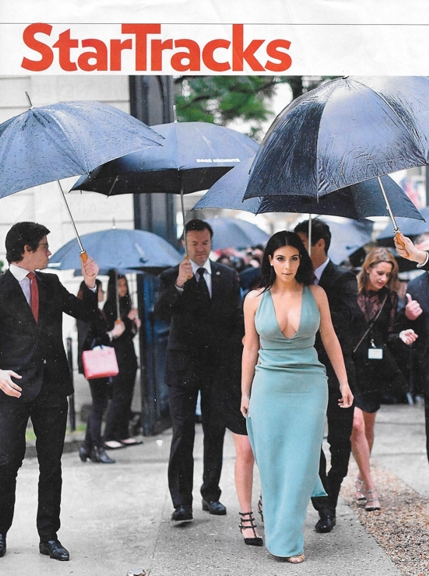 Particularly inexplicable is a celebrity with virtually unlimited financial resources wearing a dress that is ill-fitting. The July 28, 2014 issue of People pictures Kim Kardashian  walking in the rain in Paris en route to attend the Valentino Haute Couture show in July. She wears a dress with a plunging necklace meant to show off her figure, but many inches of fabric are unattractively bunched around her waist. There is far too much dress for her petite figure and small waist.
The fix for almost of these sad sack woes is the assistance of a talented tailor, who can make alterations so that the garment flatters the wearer.