While the discomfort and injuries attributable to unreasonably designed footwear continues to pile up, a number of couture designers have looked to the youth market for their version of an antidote to their customers' pain. The solution they proffer:  Sneakers.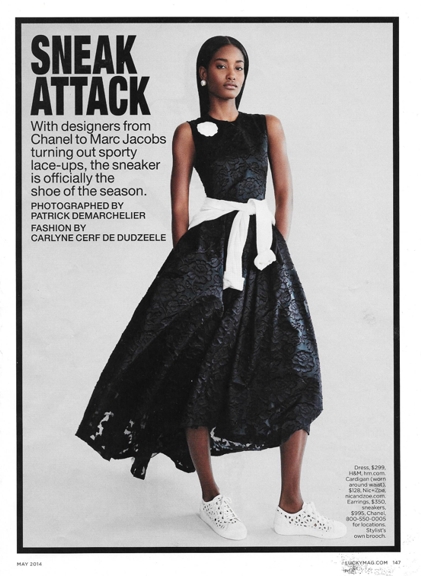 Athletic footwear is, this moment, high fashion, worn with absolutely everything, but in designer versions, of course. The May 2014 issue of Lucky magazine reports:  "With designers from Chanel to Marc Jacobs turning out sporty lace-ups, the sneaker is officially the shoe of the season." Pictured above is a $299 dress from H&M worn with $995 Chanel perforated sneakers. The model's earrings, $350, are also from Chanel. The cardigan sweater worn around her waist is $128 from Nic + Zoe.
Some styles pictured in the Lucky photo spread, such as ensemble with jeans and a sporty perforated mesh look with a tee shirt — require not much of a stretch to accompany the look with sneaks. A '50s-inspired look above, looks rather costumey with the addition of the $860 Dior sneakers. (The model wears a $66 Asos skirt, $10 Hanes socks, and  $16 crop top from Forever 21.)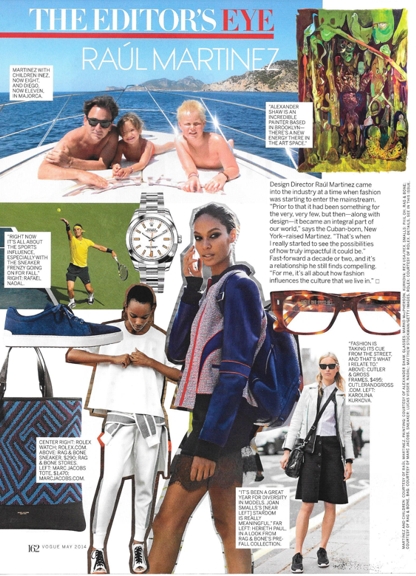 The design director for Vogue magazine, Raul Martinez, is quoted in the May 2014 issue of the magazine in the feature "The Editor's Eye":  "Right now it's all about the sports influence, especially with the sneaker frenzy going on for fall."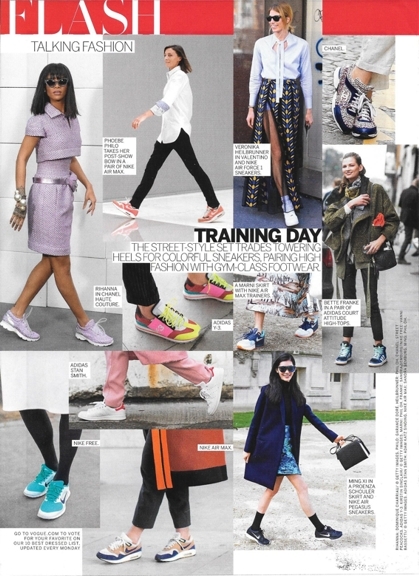 Without any tongue-in-cheek at all, the May 2014 issue of Vogue reports:  "The street-style set trades towering heels for colorful sneakers, pairing high fashion with gym-class footwear." Among the looks pictured is a highly circulated photo of singer Rihanna in head-to-toe Chanel Haute Couture, wearing sneakers that match her ensemble. To Vogue's credit, sneakers from athletic footwear experts Nike and Adidas also make the style cut.
While sneakers can be comfortable to wear, no doubt, they also can have a tendency to make an ensemble look more than a bit schlumpy, matchy-matchy Chanel Haute Couture versions notwithstanding, when not worn with sporting clothes or casual wear. As with all trends, in deciding whether to incorporate this trend into your wardrobe, consider whether sneakers contribute to the image you want to convey.