It is remarkable that the fashion press almost universally ignores the damage to feet caused by all too many of the fashionable shoes created and promoted by designers and featured in magazine editorial content. Here are recent articles that spotlight the potential issues: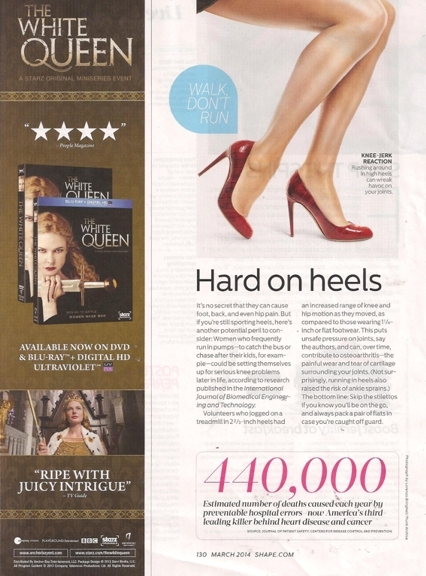 The March 2014 issue of Shape includes an article entitled "Hard on heels" that concludes that rushing around in high heels "can wreak havoc on your joints." The article elaborates:
"It's no secret that they can cause foot, back, and even hip pain. But if you're still sporting heels, here's another potential peril to consider: Women who frequently run in pumps–to catch the bus or chase after their kids, for example–could be setting themselves up for serious knee problems later in life, according to research published in the International Journal of Biomedical Engineering and Technology."
The article references a test in which women jogged in 2 2/3-inch heels, compared with 1 1/4-inch heels and flat footwear. The women wearing the higher heels "had an increased range of knee and hip motion as they moved" which "puts unsafe pressure on joints . . . and can, over time, contribute to osteoarthritis." The potential for ankle sprains is also noted. The article concludes:  "The bottom line:  Skip the stilettos if you know you'll be on the go, and always pack a pair of flats in case you're caught off guard."
Notice that the "high heels" tested were only 2 2/3 inches in height, hardly stilettos of the heights common  in many designer collections.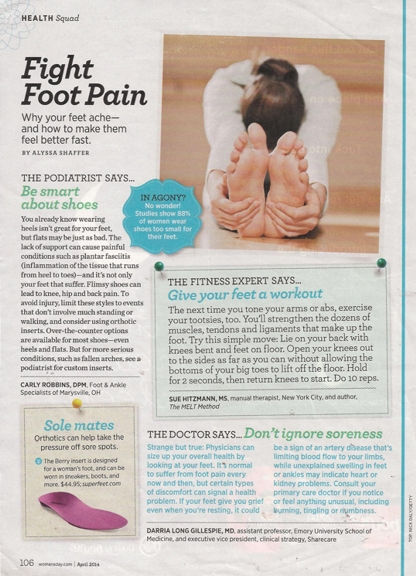 The April 2014 issue of Woman's Day contains an article entitled "Fight Foot Pain:  Why your feet ache–and how to make them feel better fast" by Alyssa Shaffer. She reports that "the podiatrist says . . . Be smart about shoes."  Shaffer files this report form Carly Robbins, DPM, of Foot & Ankle Specialists of Marysville, OH:
"You already know wearing heels isn't great for your feet, but flats may be just as bad. The lack of support can cause painful conditions such as plantar fasciitis (inflammation of the tissue that runs from heel to toes)–and it's not only your feet that suffer. Flimsy shoes can lead to knee, hip and back pain. To avoid injury, limit these styles to events that don't involve much standing or walking, and consider using orthotic inserts. Over-the-counter options are available for most shoes–even heels and flats. But for more serious conditions, such as fallen arches, see a podiatrist for custom inserts."
Still not convinced that low-heeled (but not flat) comfortable shoes are the way to go?  Consider these stories pulled from the pages of the fashion press:
The December 2013/January 2014 issue of Harper's Bazaar reports (with a startling admission):  "The news is out–heels are getting low, much to the relief of our aching feet. But for the vertically inclined, never fear:  You can still get your kicks in with a block-heeled sandal–it's the chic compromise between the vertiginous stiletto and the workaday flat." Pictured are styles from Marvin K. and Marni. Block heels were first reported by Harper's Bazaar back in fall 2012, over a year ago, as I discussed in my October 4, 2012 blog post. The block heel is proving to have staying power.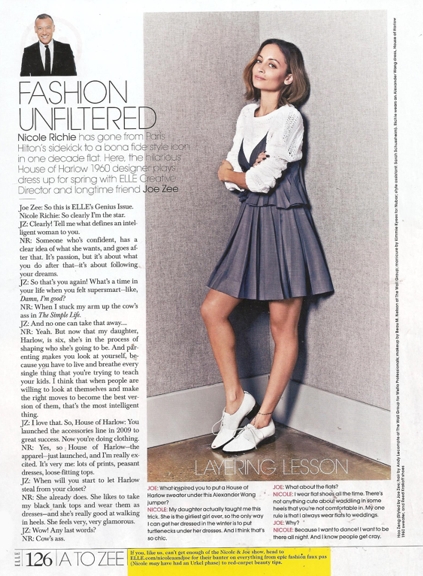 In the April 2014 issue of Elle, actress, House of Harlow 1960 designer and style icon Nicole Richie explains her flat shoes in the photo above to creative director Joe Zee: "I wear flat shoes all the time. There's not anything cute about waddling in some heels that you're not comfortable in. My one rule is that I always wear flats to weddings." Joe asked why. She responded:  "Because I want to dance!  I want to be there all night. And I know people get cray."  Richie wears an Alexander Wang dress over a House of Harlow 1960 sweater with Reed Krakoff shoes. Note that the oxford-style shoes are not completely flat, but rather have a heel of at least an inch – a perfect blend of comfort and chic.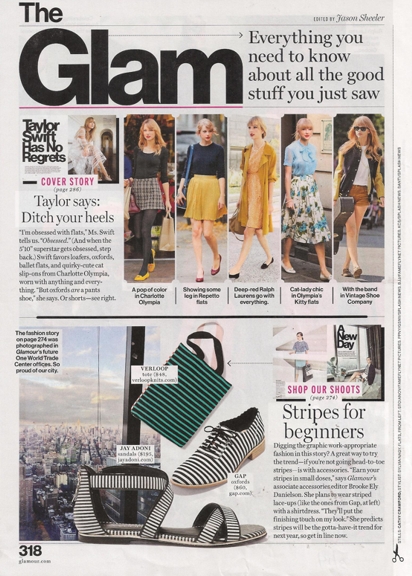 Singer Taylor Swift, the cover girl of the March 2014 issue of Glamour, "says: Ditch your heels. 'I'm obsessed with flats,' Ms. Swift tells us. 'Obsessed.' (And when the 5'10" superstar gets obsessed, step back.) Swift favors loafers, oxfords, ballet flats, and quirky-cute cat slip-ons from Charlotte Olympia, worn with anything and everything."
More on the latest in chic and comfortable footwear will follow.